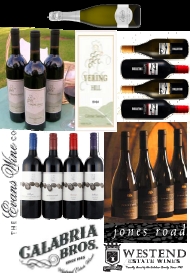 Once again, to support our charity work (this year to raise funds to transport Donations In Kind to East Timor - find out more about the DIK Store by clicking here - under the "CONSIGN A CONTAINER" project), the Rotary Club of Melbourne is able to offer you an exclusive range of wines, not all available on the local retail market.
In addition, thanks to two of our members, we have four brilliant Premium wines at a very special price.
From the Yarra Valley, Yering Park Vineyard presents the famed Yering Hill Cabernet and from the acclaimed Mornington Peninsula, we have Somerbury Estate's Jones Road wines.
From Westend Estate, we have privileged access to export wines which include the quality Nine Stones Shiraz and the budget priced Bulletin Place range.

As well we have two new wines - a Richland Sauvignon Blanc and a Coonawarra region Cabernet and, again, an exceptional Sparkling Cuvee also from Westend.
These wines offer unbeatable value for money and orders of 5 dozen or greater will be delivered free to your door in late November.
To obtain your wine order, there are two options:
1. PICK UP
Collect from either Wilderness Wear Warehouse, 3 Kia Ct, Preston; or
Collect from Wittner's Warehouse, 127 Cremorne St, Richmond.
Pick ups can be made from both locations on Thursday, 27th November 2014 or Friday, 28th November 2014 between 10.00am and 4.00pm
2. DELIVERY
Orders of 5 or more dozen to the one address will be delivered free.
Orders of under 5 dozen will incur a delivery fee of $7.50 per dozen.
IN THE EVENT THAT YOU WANT TO SUPPORT THIS FUNDRAISING PROJECT, BUT DO NOT WISH TO PURCHASE WINE, YOU CAN MAKE A DONATION TO THE CAUSE BY CLICKING HERE.
The offer is for cases of 12 bottles each (unless otherwise stated). Click on the images below to find out more about each wine and to add to your Shopping Cart.
Please note: Under the terms of the Club's Liquor Licence all deliveries must be received by an adult 18 years and older. Department of Justice Liquor Licence No. 90099428.