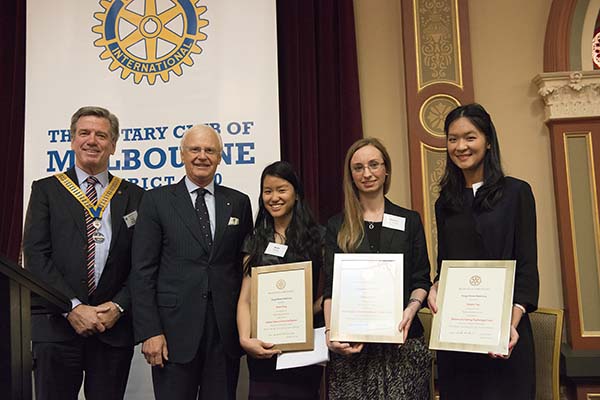 Young Achiever Awards - 2013/2014
The Rotary Club of Melbourne Young Achiever Awards reflect vocational excellence and outstanding community service for Young folk between the ages 18-26. Vocational excellence can be demonstrated through academic or vocational education, business, sport or the Arts. Leadership capabilities and broad interests are also common features of future leaders.
Each awardee receives $1000 and a certificate of achievement from the Club.
The recipients for 2013/2014 are: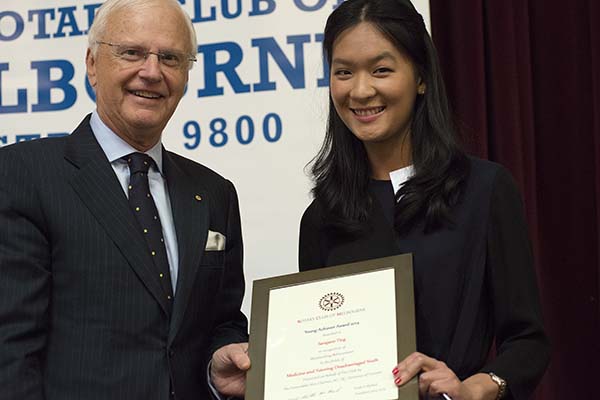 Sarajane Ting: Medicine and tutoring disadvantaged youth
Sarajane Ting completed degrees in Bachelor of Medical Science and Bachelor of Medicine and Surgery with honours from The University of Melbourne in 2013. She has always been an outstanding student academically. Despite only arriving in Australia in 2007 to study Year 12 at a tender age of 16, she was named Dux of Genazzano FCJ College complementing valedictory awards of the Inge Family Prize in Mathematical Methods and The Andy Richardson Prize for Chemistry. She then gained entry into Medicine at the University of Melbourne in 2008, winning the Old Collegians' Scholarship at Newman College the same year.
In 2010, she was awarded the Melbourne Global Mobility Scholarship to the University of Oxford in the UK, where she was awarded First Class Honours for her research thesis in medical physiology. She is the recipient of numerous academic scholarships from Newman College in 2012 and 2013.
Complementing her academic accolades, Sarajane is an accomplished ballroom dancer, having won medals at state and national level, most notably awarded the bronze medal at the 2009 Australian Dancesport Championships in Level 1 Ballroom. She also completed her piano certificate at the age of 14 and has continued to develop her keen interests in music and dance. She has also had various opportunities for leadership, most recently appointed as a member of the Newman College Council as a student representative in 2012 and 2013. She was also nominated and sponsored to attend the 2012 National Students Leadership Forum on Faith and Values in Canberra.

In 2013, Sarajane was awarded the Newman College Peter Le'Strange medallion for leadership in the community. Sarajane has always had a keen interest in community service, both within the immediate community she is involved in as well as the wider community. Her community service contributions began during her high school years, where she was appointed as the Director of Community Service in her school Interact Club in Malaysia. Her visions for service to the community began with organizations of various charity sales within the school and the local community for disadvantaged groups such as The Blind Centre and The Salvation Army for orphans.
During her tertiary education years however, she developed a passionate interest in service to the community through teaching, strongly believing that the opportunity for education is the greatest gift to another. Starting off as a student tutor to disadvantaged students in an already established program called the Friday Night School, she was inspired to further her teaching involvement in the community while at the same time enthusiastically motivating her peers to reach out to these disadvantaged children. In 2012 and 2013, she focused on organizing weekly tutoring sessions at Newman College for disadvantaged students in the wider community, with the aim of bringing together a collective sense of service, companionship and mentorship.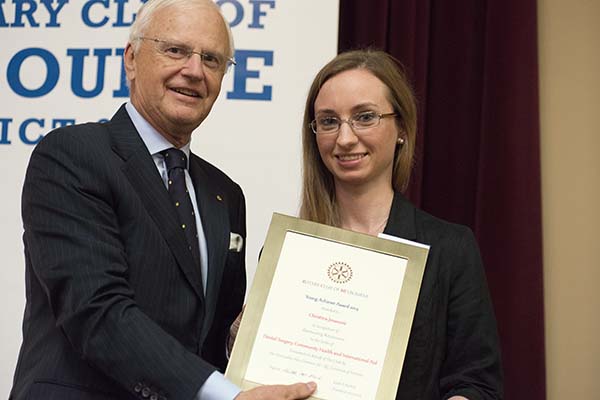 Christina Jovanovic: Dental surgery, community health and international aid
Christina has completed a Bachelor's degree in Medical Science at the University of Sydney, focusing on Histology, Microbiology and Pathology. She is now in her final year of graduate studies in the Masters-level Doctor of Dental Surgery at the University of Melbourne. Her academic results show a high level of consistent understanding and performance as a student and clinician. She has also demonstrated renowned work in the field of research, with her being the consistent highest aggregate student in the Dental Research Project subject.
In the last year, she has been awarded a Student Research Travel Grant, to support her attendance and presentation at an international conference and also a Dental Student Research Grant, to support a Summer Research Project. Her recent work has led to a publication-in-review by an international scientific journal. Christina has also been selected as a finalist for the competitive Australian Society of Endodontology Essay Competition. She has also extended her services as a clinician to communities in need of dental healthcare by undergoing voluntary clinical placement in regional and rural areas with the Royal Flying Doctor's Service and children suffering from chronic health conditions at the Royal Children's Hospital.
Throughout her graduate degree, she has concurrently been a member of the Senior Common Room at Newman College, where she has taken on a number of leadership, academic and community service roles and been awarded both the Rector's Exhibition and Gannon Family Residential Scholarships over her time as a College member. A major role has also been her coordination of volunteers for the annual Newman College Community Service Dinner, which is entirely run by means of voluntary aid to raise funds for organisations in need. Last year, the Dinner raised in excess of $5000 and all proceeds were distributed between the Jesuit Hakimani Centre in Kenya, Jesuit Social Services and Caritas Australia. Christina also regularly participates in community outreach initiatives led by the Order of Malta.
Her sporting achievements include numerous representations in Tennis, where she has represented the University of Sydney in a number of club, district and inter-district tournaments. She has also been an intercollegiate sports competitor for Newman College, achieving a place in the tennis quarter-finals in 2011. Christina also participates in the Herald Sun City Link Run for the Kids 15km course yearly, alongside a team she coordinates. In earlier years, she was a member of the courtside ball-person squad at the Sydney Medibank International ATP Tour and has participated in regular training and performance of Classical Ballet and Jazz Dance.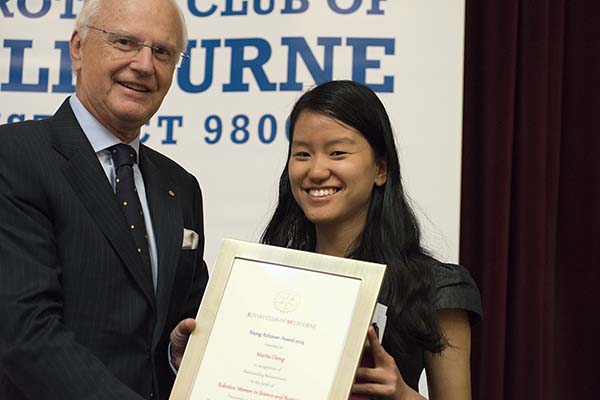 Marita Cheng: Robotics, women in science and business
Marita was the Young Australian of the Year in 2012. She graduated from high school in Cairns, Far North Queensland. Unable to afford to study at University, she went anyway. In her first week there, she was awarded the Paterson Scholarship for her academic grades and community service. In Marita's second year of University, she established a robot-building club at the University of Melbourne, before embarking on a yearlong exchange at Imperial College London studying Mechanical engineering. While there, she established the Imperial College Robotics Society. Returning from exchange, Marita entered a sumo robot competition held on ABC and also served as a panellist on the New Inventors' Robot Special.

Marita studied piano from the age of 7. She regularly won first place at the Eisteddfod each year. For grades 4, 6 and 7, Marita received the highest grades in the state for her pianoforte examinations at the Australian College of Music, and second in the other years. In her final year of high school, Marita sang and played keyboard in a talent competition held at Cairns Central.

Marita started a company in her first year of University, Nudge. Nudge is a reminder service that is used by patients taking prescription medication. Nudge was very successful in winning many entrepreneurial competitions such as 1st in the Undergraduates division of the Melbourne University Entrepreneurs Challenge in May 2008, winning the Open Division of Melbourne University's Idea Pitch in October 2008 and winning Melbourne's Mobile Monday Student Entrepreneurs Competition in August 2009, as well as a number of other competitions and wins overseas in London and Sweden. Nudge launched in August 2009 and the service was distributed in 4 pharmacies, before Marita decided to close the business and focus on Robogals.
Marita founded Robogals Global, an organization that aims to get girls interested in science, engineering and technology (SET) careers and tertiary studies. Using LEGO robots has helped teach 17,000 schoolgirls how to build and program them, while telling them all about engineering. There are Rural and Regional programs across Australia as well as 18 chapters across 4 countries, and a Robogals Science Challenge. Projects in the pipeline include teaching teachers, a Robogals Camp, and an international Duke of Edinburgh-style program to deepen girls' engineering and science skills. In recent years, Robogals grew to 16 chapters in 4 countries around the world, and taught a cumulative of 7000 girls. Robogals is a continuing venture but Marita has now created a new enterprise developing robotic devices to assist disabled folk with a range of household and hygiene tasks.