Vice President's Report - 2005/06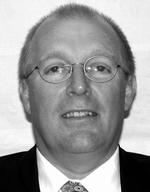 Community Service Committees - Peter Abotomy
My apologies for not being here in person today but, after a year of almost incessant travel, I am today braving the wilds of Disneyland in the US with my family.
I thank Vice President Sue for giving my talk for me.
The Community Service Committees do an enormous amount of work and all of the chairs should be congratulated and deserve a round of applause for the time and energy they put into their committees.
I shan't be providing chapter and verse for each of the committees as I've been told that this talk is to be necessarily brief, so I apologise in advance if any one committee feels neglected as this is certainly not the intention.
Our Rotary Foundation Committee had another great year in successfully identifying young potential leaders for selection in significant Rotary Foundation Programmes. For the second year in a row, our nominee for the District Ambassadorial Scholarship was successful with Robert Stuart Smith, an architect, off to do a Masters degree in London. Michelle Gurry, a health worker, was selected as a member of the Group Study Exchange Team that visited South Korea.
In November, which is Rotary Foundation Month, Kelton Dennis arranged a series of inspiring short presentations to members at lunch about the multifaceted educational and humanitarian work of the Rotary Foundation.
The club gave significant financial support to the Rotary Foundation through Centurian Members each donating more than $100 and the board making a special donation of $20,000.
Additional donations from the club were:
· $20,000 to the Healthy Hearts Project.
· $10,000 to the Australian Rotary Health Research Fund.
· Up to $ 7,000 to the East Timor Committee to settle a debt to a Dili construction company relating to the establishment of an OTL office at Bacau.
· $4,500 to International House.
· $1,000 to Ms Elise Klein to assist in her expenses to speak at the United Nations in New York; she is the recipient of this year's Young Achiever Award and was selected as the 2006 Australian Youth Representative to the United Nations General Assembly.
· $5,000 to The Smith Family's "Learning for Life Program" to assist the education of children from low-income families subject to a specific submission.
The Student Exchange Committee's activity for the 2005/06 year concentrated on:
· Two Outbounds - Svetlana Andrienko (to France) and Tom Fincher (to Thailand) who completed their year in January 2006 and delivered their Homecoming Addresses at our luncheon meetings;
· One Inbound - Alex Dahlberg (from Sweden) who arrived in July 2005 and had as his Host School, Trinity Grammar, Kew. Alex is now preparing for his return home and will deliver his Farewell Address on the 5th July;
· One more Outbound - Morgan Jones (to Germany) - Morgan left in January 2006 and has been keeping our Club regularly informed of his progress.
This activity could not have been possible without the loyal support of Club members who acted as Counsellors and Host Families.
International Committee has begun research into producing beginning/early literacy kits (ie 5 year olds) for East Timor. Latest issues there have stalled us a bit but the idea is to produce a kit for a school beginner which will have books/ materials for initial reading/writing. We would then establish a price per kit/child then fund raise accordingly. (Bob Glindemann has reorted separately on East Timor.)
The Cambodia Leprosy project continues to progress well under the direct supervision of our contractor CIOMAL to assist in the early diagnosis of leprosy. Throughout the year we have become more experienced with the matching grant process of the Rotary Foundation and are now confident that a matching grant will be forthcoming shortly. A by-product of this process has been the strengthening of the ties between our club and the Rotary Club of Bangkok, who are partnering us in this project.
The Rotary Club of Shanghai was rechartered this year and the ceremony was attended by five members of our club: President Mev Connell, President Elect Chris Wang & Janet, Vice Presidents Sue McCarthy & Peter Abotomey, and Director Ron Cullen & Marie.
Ways and Means oversaw and monitored approaches made to companies, trusts and other philanthropic bodies for funding for Rotary Club of Melbourne projects. The principal remit was to ensure that we did not inadvertently have two submissions going to the same organisation at the same time for different projects, unbeknown to each committee making their application.
The Arts Committee "highlight" was that it continued to go "from strength to strength" in support of, and acceptance for, its mandate of assisting and promoting young artists; and to provide fellowship activities for Rotarians and their guests, to enhance their knowledge of the Arts in its many forms:
Young Achievers Award in March went to soprano Mylinda Joyce, a graduate of Victorian College of the Arts in Music Performance.
Support was provided for Julia Berg, who in May took up a Film Producer Internship with a leading New York independent film company.
Welfare of the Young had another very successful year with many young people benefiting from participating in the wide variety of District Programs including RYLA, RYPEN, MUNA, Siemens Science Forum, National Youth Science Forum and Adventures in Citizenship.
We also made significant progress on initiatives including the completion of buildings as part of the Donydji Homeland Centre and preparation of the associated educational programs for the 2007 year; commencement of our association with the West Melbourne Refugee Centre and the preparation of drawings and obtaining of development permits for the Sydney Road Community School.
The Vocational Service Committee had another great year with excellent selections for the Vocational Service Award, Young Achievers Awards and Vocational Training Awards. The recipients were:
Vocational Service Award - Professor Alan Trounson;
Peter Abotomey
21 June 2006