Rotary Foundation 2005 FACTS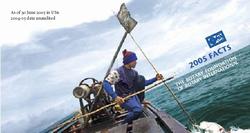 Each year The Rotary Foundation of Rotary International publishes a summary of the programs and achivements of this vitally important part of the Rotary organisation.
2005 FACTS is a summary publication that will take only a few minutes to read, but which will provide the reader with an insight into the incredible work achieved through the Rotary Foundation.
You are invited to click on the Related File below to download and read this amazing publication.
To learn more about the work of the Rotary Foundation, click here.