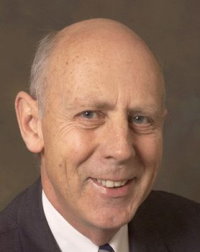 WELCOMING ADDRESS BY INCOMING 2015/2016 PRESIDENT PETER ROGERS
Distinguished Members and Guests, -including DG Murray Verso, DG Julie Mason, Assistant DG Ian Salek, Past Presidents of the Club, My Vice Presidents, Partners and Family.
It gives me extraordinary pleasure to be Invested and to speak to you as President of this great Club, Rotary Club of Melbourne in its 95th year. Thank you for this great honour you do me.
I would like to acknowledge Peter & Catherine Bearsley. Peter has overseen some remarkable positives which will strengthen the Club and its projects – and the effects in strengthening our Club will be seen far into the future.
I would also like to acknowledge Murray Verso, and Julie Mason, and Ian Salek for the Leadership and support they have given to us. Julie Mason has been actively supporting us since January 30th this year when she came to see one of Sir John Monash's bridges at Creswick – and to hear about its history from Clive Weeks. It was her birthday and she was ill. This told us a lot about Julie, and she continues to amaze us.
This Club has a long and proud record of achievement in the community. We have always been very clear about what we stand for. When Cathy and I and our three daughters returned to Melbourne – after living in London for five years - I joined Rotary in 1990. I was originally trained as a chemical engineer, and had been working in various parts of ICI PLC's international operations in Europe, and Asia. This was an opportunity to extend my network!
I was warmly welcomed as Members and guests have been welcomed here for Fellowship for 95 years. I then became interested in the projects and activities of Rotary.
I follow in a long line of distinguished Presidents – many of whom are here today. I am the 99th President of the Club. Quin Scalzo, my successor as President will be the 100th President.
Over the 95 years of the existence of Rotary in Australia, Rotary has become better known for what it stands for. In 1922 on 11th April, Sir John Monash (Ref 2) was elected to succeed Prof W A Osborne – a Physiologist and President of the Professorial Board at Melbourne University. (Ref 3)
Rotary was so little known then in Australia that Sir John Monash thought it wise to publish in the newspaper the next week (29th April 1922) "The Specific Objects of Rotary": (Ref 4)
To encourage and foster high ethical standards in business and the professions,
The ideal of service as the basis of all worthy enterprises,
The Active interest of every Rotarian in the civic, commercial, social, and moral welfare of his community,
The development of a broad acquaintanceship as an opportunity for service, as well as an aid to success,
The interchange of ideas and of business methods as a means of increasing the efficiency and usefulness of Rotarians,
The recognition of the worthiness of all legitimate occupations and the dignifying of the occupations of each Rotarian as affording him an opportunity to serve society.
At that point our Club met in the Melbourne Town Hall supper room. They met every Wednesday – as we do now – 60-70 leaders in business and the professions listening to a speaker on a topic of public interest for 20-30 minutes. Not much has changed! Except after lunch they sat and smoked!
But the real test for Rotary – as for any organisation – is when a critical time arises for a decision – and how we respond to such situations and opportunities. Such was the case for Rotary when war loomed in Europe. What was to be our response given the large numbers of Rotarians based there.
Cathy and I were recently in Milan – a city much like Melbourne, a centre of commerce and industry – and headquarters of Pirelli and much of the auto industry. Rotary Club of Milan was shut down by Mussolini during the war. He did not want local business leaders meeting. It restarted again – for a second time – in 1947.
A clear leader of Rotary in Australia through these times was an early President of Rotary in Sydney – G Fred Birks – who was instrumental in establishing Rotary in Perth. Birks was a operator of a pharmaceutical and medical products business in conjunction with Johnson & Johnson in Sydney.
Birks became an influential leader of Rotary in the run up to WW2. (Ref 5).
In his opening address in June 1938 as President of RI International Service Assembly – after Germany had annexed Austria in March 1938 - Birks said :
" I venture to say that the most alluring, the most dazzling hope in Rotary's entire program during such tense and soul destroying times as these, is the hope that we shall be able to lead men in the direction of international peace."
"I find myself very sensitive to the criticism that Rotary is failing to take a definite stand in international affairs"
"They make me wish that Rotary might do some outstanding thing which would be recognised by all men throughout the world as a service unparalleled in history".
The answer for Birks was not in "denunciating nations" but in the forging of international links and projects.
So how do we stack up to this challenge of Birks nearly seventy years later?
Peace – and the International Peace Scholars – are a priority of our District and our Club. We have earned RI distinction for this.
Exchange students – This year we have one leaving – Julie Hindkaer from Denmark. We will have two arriving in H2 – from Germany and Japan.
Our International Projects will include the completion of a new water project for Barra – a small fishing community in remote Philippines without a water supply. We will be using the latest technology to drill to 150metres below ground, we will use solar pumps to deliver the water to ring mains in the village. Infant deaths and sickness will be reduced. They will enjoy a better world, and better opportunities.
We will continue our Corporates led project to reduce homelessness among 18 year olds leaving state care. This too will involve the latest technology to train and inform homeless young men and women.
And we will complete over 100 other projects in all areas of the community. All of our members will be involved in something worthwhile.
All these projects have at their heart John Monash's Specific Objects of Rotary: To encourage and foster high ethical standards in business and the professions; and the ideal of service as the basis of all worthy enterprises. At our heart our primary goal is to promote International Peace.
Finally. I would like to acknowledge Cathy and my three daughters. Without their support I could not do this.
Again, my thanks for this great honour to lead the Club – as President - for the next twelve months. I look forward to working with you all.
Thankyou
Dr Peter Rogers
President Rotary Club of Melbourne
Zinc, Federation Square, Melbourne
24th June 2015
References:
1. Mr A C C Holtz, "Argus", Melbourne, 18th November 1936, page 6.
2. Sir John Monash, "Argus", Melbourne, 12th April 1922, page 10.
3. Prof W A Osborne, Australian Dictionary of Biography, Barr O Jones, Vol 11, MUP, 1988
4. What is Rotary? "Argus", Melbourne, 29th April 1922, page 20.
5. RI International Service Assembly, 22nd June 1938. G Fred Birks, Opening Address.