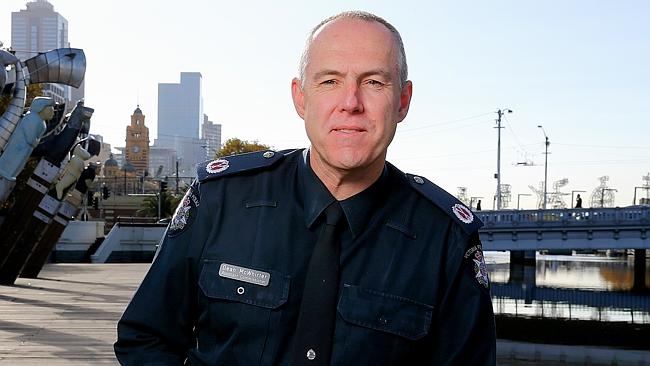 LUNCHEON - 6TH MAY 2015
Speaker: Assistant Commissioner Dean McWhirter, Victoria Police
Topic: 'Victoria Police's responses to Family Violence'
Chairperson: Cheryl Lacey
Dean has had a diverse career during his 35 years in Victoria Police. He has had roles as an investigator, and has worked at various supervisory levels across the Victoria Police including the Intelligence and Covert Support Department, Transit Safety Division and the Ethical Standards Department. Dean was also manager of the Yarra Police Service Area (Richmond, Collingwood and Fitzroy).
In 2010, Dean was appointed as the Superintendent of the Road Policing Enforcement Division, comprising the Traffic Camera Office (Road Safety Camera Program) and the Technical Enforcement Support Unit (In Car Video and ANPR).
In 2014, Dean was appointed as the Superintendent, People Development Command and was responsible for the oversight of foundation training for police recruits and protective security officers.
In January 2015, Dean commenced in the role of the Acting Assistant Commissioner, Eastern Region. In March 2015, appointed as the Assistant Commissioner, Family Violence Command. This Command is the first of its kind in any policing jurisdiction in Australia.
Dean has completed a Graduate Certificate Management (Public Sector) at RMIT and Masters of Leadership & Management (Policing) at Charles Sturt University.
Synopsis Of The Lunch
Dean McWhirter, a 35-year veteran of policing in Victoria and Australia's first Assistant Commissioner of the Family Violence Command had members and guests safely in his hands as he gently immersed us in the gruesome reality of this global epidemic - family violence. Dean's statistics and analysis of family violence had one key message – to break the cycle we must accept that family violence is no longer a private matter but a whole of community issue.
The most recent 2014 figures are staggering:
Police responded to over 68,000 family violence incidents
Over 7,000 people serious injuries from family violence
Over 400 people were taken against their will as a result of a family violence matter
874 children were sexually assaulted
Nearly 44,000 children were witness to family violence incidents
The last ten years has seen a 136% increase in family violence incidents recorded, a 550% increase in intervention orders applied for by police and an 876% increase in incidents where charges were laid arising from a family violence incident.
More important, the Assistant Commissioner reminded us that behind the statistics are vulnerable women, children and men. Behind the statistics are families in crisis.
His commitment to the people of Victoria and to those experiencing family violence is, 'to always listen and put the victim's needs at the centre of everything he does.'