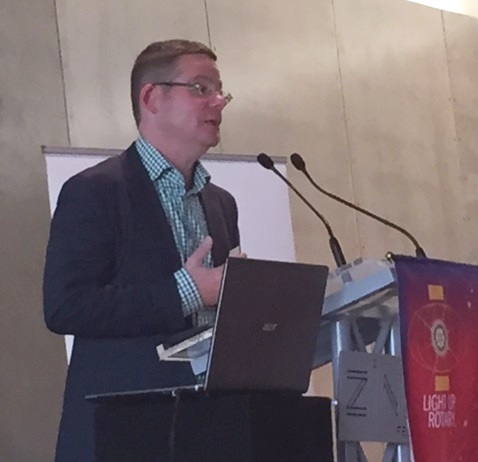 LUNCHEON - 15TH APRIL 2015
Speaker: David Hall, CEO Jetstar airlines
Topic: 'Jetstar's growth from a small Melbourne-based airline to an APAC multi-national'
Chairperson: Chris Knight
David was appointed CEO Jetstar Australia and New Zealand in August 2010. Within this role, David is responsible for Jetstar Airways' operations in Australia and New Zealand as well as long haul international.
Prior to this, as a Qantas Group Executive, David was responsible for the Qantas Group's technology platform and service delivery. Previously, in addition to the technology portfolio, David was head of Group Strategy responsible for Qantas' overall strategic direction; the Group's transformation program (QFuture) and had responsibility for the coordination of activities between the Office of the CEO, group executives and business portfolios. David has been with Qantas Group since 2005 after initially joining as Jetstar Airways' Chief Financial Officer. Before joining the aviation industry, David enjoyed an extensive finance career in public practice, banking and mining. David has held senior finance positions in Rio Tinto (Melbourne and London), National Australia Bank, ANZ Banking Group Limited and WMC Resources Limited.
Synopsis Of The Lunch:
From a small airline to now the largest best low cost airline in the Australia/Pacific in 201, 2012 & 2013 Jetstar has developed a significant presence in the aviation & travel industry. This was the story that CEO David Hall told to members & guests at the meeting on Wednesday 15th April 2015. Coming from an extensive career in financial management in companies such as Deloitte, Rio Tinto, NAB and WMC David joined the Qantas Group in 2005 working in various areas including Chief Financial Officer of the newly formed Jetstar Airways before becoming CEO of Jetstar in 2010.
David detailed the growth of Jetstar from a fleet of 13 aircraft to a fleet now of approx. 140 aircraft including the newly released and introduced into Australian skies of the Boeing 787-8 Dreamliner with the 400 employees in 2004 to now about 7,000 employees across Asia Pacific. Since it launched in 2004 Jetstar has flown more than 140 million passengers and in the past financial year ended June 2014 the Jetstar Group carried more than 20 million passengers. David explained that since it's' inception in 2004 Jetstar has faced many problems ranging from fuel costs, employee relations, capital investment and serious competition from overseas "low costs" airlines.
Through a combination of the ability to leverage off its parent, Qantas Group, maximise the use of its fleet of aircraft and employee commitment and involvement Jetstar has continued to grow. Even during the global financial crisis when Australians actually increased their travelling Jetstar grew because of its capacity to offer low cost travel. David apologised to recent travellers departing or arriving at Tullamarine for the inconvenience caused by the construction of the new terminal which will become the base for Jetstar increasing the number of departure lounges from 6 currently in Terminal 1 to 17 in the new terminal scheduled for opening in November 2015. David also detailed Jetstar's commitment to giving back to the community which has supported its growth.
Accordingly Jetstar has raised almost $4 million $ from donations by "in flight passengers and in association with World Vision have supported projects throughout the Asia/Pacific region. In addition Jetstar support local community projects with one off funding which is a combination of direct funds and allocated airline travel. On Jetstar of course!!! In conclusion David indicated Jetstar's and his continuing commitment to support the community that has allowed Jetstar to experience the growth that it has over the past 10 years. And as David pointed out the number of potential passengers in the regions where Jetstar has a presence are greater than the rest of the world combined!!