LUNCHEON - 1ST APRIL 2015
Speaker: The Honorable Tim Fischer AC GCPO
Topic: 'Melbourne Rotary Charter member and Australia's greatest Citizen General, Maestro John Monash'
Chairperson: Chris Knight
Timothy Andrew "Tim" Fischer, AC GCPO has been involved in Australian politics in one form or another since 1971. He served as Deputy Prime Minister in the Howard Government from 1996 to 1999. He retired from Parliament in 2001, and was the Australian Ambassador to the Holy See between 2008 and 2012.
Fischer was born in Lockhart, New South Wales, and is of German descent. He attended Xavier College, Melbourne. In 1966 he was conscripted into the Australian Army, was commissioned at the Officer Training Unit, Scheyville and served in the Vietnam War.
On his return from Vietnam, Fischer took up farming at Boree Creek, Riverina, and became active in the Country Party, as the party was then called. He represented Sturt in the New South Wales Legislative Assembly from 1971-80, and Murray from 1980-84. He served on the opposition frontbench from 1978-84.
Synopsis Of The Lunch:
The newest member of the oldest Rotary Club in Australia had 117 members and guests entranced by his knowledge, commitment and passion to, in his words, elevate General Sir John Monash to the rank that he deserved. The Honourable Tim Fischer following his awarding of Honorary Member of The Rotary Club of Melbourne spoke with knowledge and passion regarding the career of Monash and the reasons (facts) why he Monash should be posthumously promoted to Field Marshal.
Describing his early years born to Prussian parents in 1865 in Melbourne, the Monash family moved first to Narrandera then settled in Jerilderie, where he encountered Ned Kelly, then his education, first at Scotch College then Melbourne University Fischer gave an enthralling pathway to the early career of Monash. After graduating with degrees in arts, engineering and law Monash began his professional work as an engineer with first of all David Munro, then Graham and Wadick, Port of Melbourne Harbour Trust and then and finally on partnership with Joshua Anderson form Monash & Anderson. During his early years as an engineer Monash was involved in the building of Princess Bridge, Morell Anderson Street Bridge, Outer Circle railway and numerous bridges round Central Victoria. In July 1884 whilst at Melbourne University Monash joined the Melbourne University Regiment as a part time reservist. Over the next 18 years Monash progressed through the ranks undertaking various roles to lieutenant colonel as a reservist or part time soldier. Monash had not graduated from Sandhurst in Britain or Duntroon at Canberra. In September 1913 Monash joined the Army full time and some nine months later at the start of the Gallipoli campaign he was commanding a brigade in fierce attack and counter attack. Here Monash through his management of his men, the intellect to develop strategies achieved remarkable results in the renowned battles of Amiens, and most significantly Hamel, where Monash's overall plan allowed ninety minutes (if all went well) and history records show it took exactly ninety three minutes!. Always demonstrating the capacity to understand why a plan worked but more importantly why a plan didn't achieve the desired outcomes. As Tim Fischer said if you want to know more about these battles "buy and read my book". Fischer went onto to document the discrimination that Monash was subjected to during his war service, immediately following the war when Monash was responsible for the repatriation of Australian soldiers back to Australia and in his post war professional career by the media and politicians.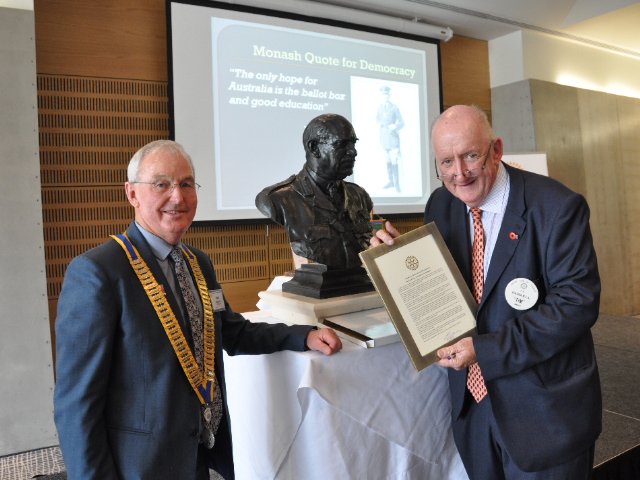 Several times during his address Tim Fischer challenged the members of the Rotary Club of Melbourne to celebrate the Club's centenary with an open air meeting / dinner at the Morell Anderson Street Bridge in his (Fischer's) view one of Monash's outstanding structures.
In closing Tim Fischer reiterated Monash's outstanding characteristics recognised throughout his life of Leadership, Integrity and Service together with his outstanding military career was more than sufficient to elevate General Sir John Monash to Field Marshall Sir John Monash and challenged all present to hassle their local member of parliament.
Interestingly the Hon Tim Fischer AC in his lifetime commitment to serving his community through politics, community service has demonstrated exactly the same characteristics, Leadership, Integrity and Service as his hero General Sir John Monash which is why he was awarded honorary membership of the Rotary Club of Melbourne.
As an addendum, our honoured guest wrote to President Peter when he returned home saying… "My sincere thanks for the hospitality today and the Rotary Lunch was a buzz. I appreciate the Honorary Membership now of two Clubs, the oldest Downunder and also from the most outback or Upover in one sense. Keep up the good work and Melbourne Rotary when turning a 100 in just a few short years' time will be a great occasion.
Happy Easter, Tim Fischer"