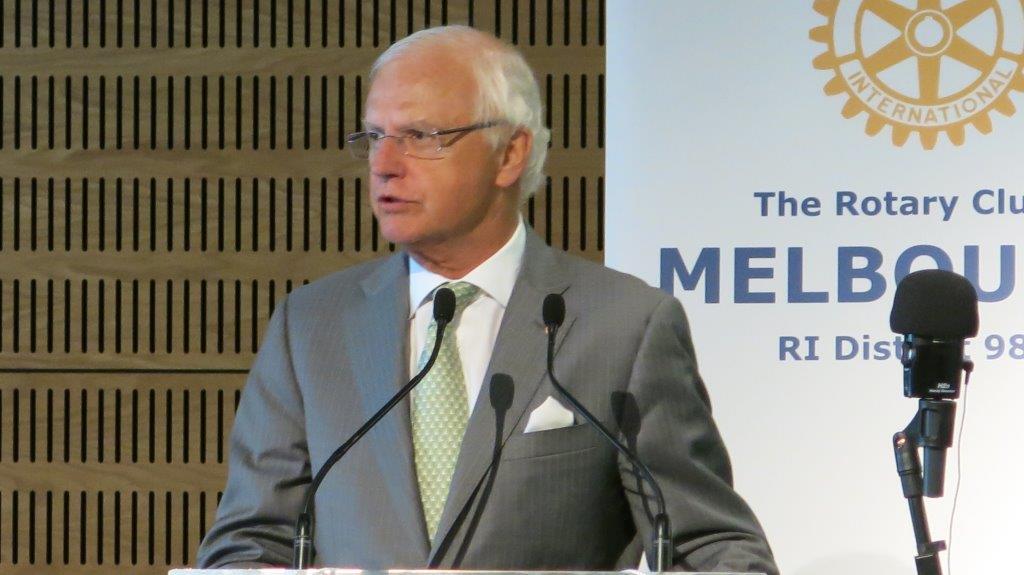 LUNCHEON - 18TH MARCH 2015
2015 Young Achiever Awards with Victorian Governor ,The Honorable Alex Chernov AC QC
Chairperson Robert Fisher
The Rotary Club of Melbourne Young Achiever Awards reflect vocational excellence and outstanding community service for Young folk between the ages 18-26. Vocational excellence can be demonstrated through academic or vocational education, business, sport or the Arts. Leadership capabilities and broad interests are also common features of future leaders.
The three Award winners in this program, which is run by the Vocational Service Committee, were presented to the Club:
Jason Brouwer, who is working at the Walter and Eliza Hall Institute of Medical Research on his Doctorate on cell death and, having worked for a period with young people in an Aboriginal community, contributes to reconciliation and closing the life expectancy gap.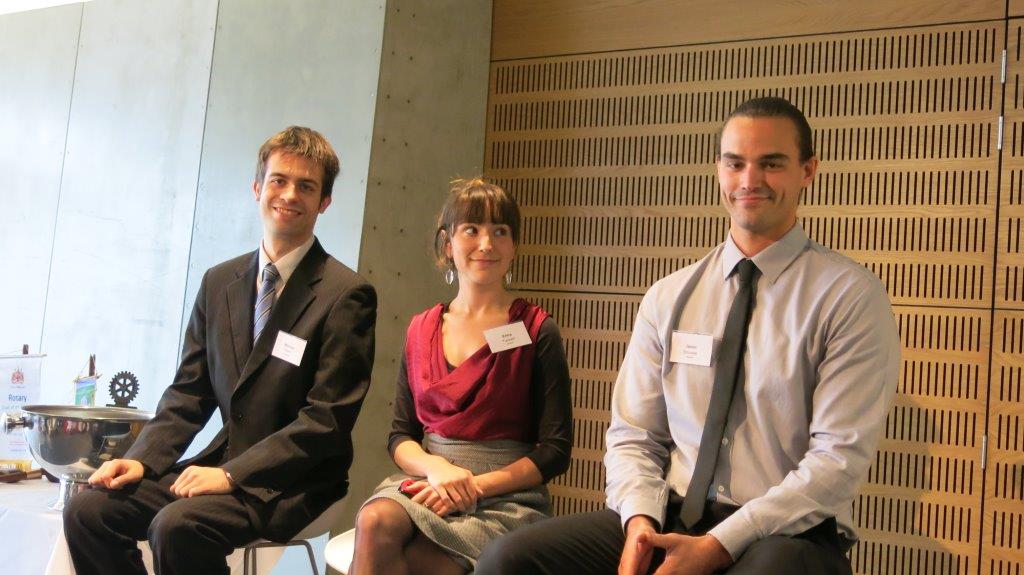 Erica Tucceri, who is an honours degree graduate in Orchestral Music Performance and is no stranger to some in the Club because of her amazing work in the Child's Play program with Sudanese students, which has been supported over several years by the Arts Committee.
Michael Keem, who is in his third year of the University of Melbourne's new Doctor of Medicine course, and has been extensively involved in community service throughout his student life. He was selected by Rotary District 9800 as one of nine Australian delegates to the Global Peace Forum in Hiroshima last May.
Before presenting the Awards, the State Governor the Hon Alex Chernov responded to the question that had been posed to him beforehand: "Are the youth of today appropriately described as maligned, malignant or marvellous?" He spoke of the stereotypes by which each of the four generations living together is represented in the mind of others – the Baby Boomers who live by traditional values and a financial burden on society; Generation X who are on the miserable or sceptical side; Generation Y who are immersed in modern communication technology, spoiled, generally lazy and believe in diversity and equality; and Generation Z who are too young to have yet developed stereotypes.
The Governor said that the focus of media criticism is on Gen Y, and the danger of creating such a culture of negative attention is that other generations in the community, principally the Baby Boomers and Gen X, will believe that this is true and, perhaps more importantly, Gen Y itself will believe that about themselves. However, it has nearly always been the case that younger generations have been maligned by older generations, while the reality is that young people differ from one another, just like older people, so the generalisation takes no account of the countless young who strive to reach their potential and make a meaningful contribution to society.
The Governor concluded that we only had to look at the three Young Achievers and thousands of others who strive to do similar things to see that there is no basis for suggesting that youth as a collective is malignant. He was not sure that he would characterise the youth of today as "marvellous" but they would come pretty close to being that. He went on to congratulate the Award recipients on their total commitment to achieving their potential and for applying their skills and talents to help others while encouraging their colleagues to do likewise.