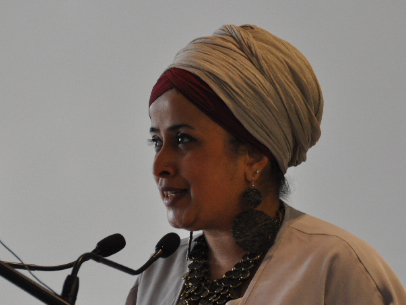 LUNCHEON - 11TH FEBRUARY 2015
Speaker: Tasneem Chopra
Topic: 'The War on Error; and other Catastrophes'
Chairperson: David Wittner
Cross-cultural consultant, curator and author, Tasneem Chopra applies her academic background in Psychology and International Development, to a wide range of educational, community well-being and human rights advocacy activities. She is a frequent presenter at conferences, across issues of human rights, the arts and well-being.
As well as running acclaimed workshops on identity politics and diversity to various audiences from Supreme Court judges to kindergarten teachers, Tasneem recently curated the Victorian content of the Immigration Museum's acclaimed Faith Fashion Fusion exhibition from October 2013 until July 2014. While in May 2013 she was selected to deliver a TEDxMelbourne talk, 'Don't Believe the Hype, Exceed It: The War Against Stereotypes.
Tasneem is an Associate of Alexandria Agenda, a firm providing solutions to policy dilemmas and conflicts arising from competing economies and cultural attitudes. She is Chairperson to the Australian Muslim Women's Centre for Human Rights; Chairperson to the board of the unique non-profit community enterprise and restaurant Lentil as Anything; a board member of Global Reconciliation, an international NGO; and an ambassador for Possible Dreams International, an NGO delivering medical and poverty alleviation services in rural Swaziland. Woman of the Year at the 2013 Australian Muslim Achievement awards, Tasneem's previous accolades includes being named in The Age Magazine's Top 100 influential Movers and Shakers of 2008 in Melbourne. The Australian Magazine also hailed her as one of the country's 100 Emerging Leaders in 2009.
Tasneem is a familiar figure to many, having appeared on Q&A, The Project, The Today Show, 7:30 and Insight as well as conducting numerous radio interviews nationally and internationally. Her written contributions have featured in The Guardian, The Age, The Herald Sun, Crikey and several online editorial platforms, and most recently in her contribution to the novel "Coming of Age: Growing Up Muslim in Australia" released by Allen & Unwin in 2014.
Synopsis Of The Lunch
Last Wednesday over 100 members and guests were captivated by Tasneem Chopra who explained that she was a fusion of being Kenyan born, Indian heritage, and from the age of 4 an Australian growing up in Bendigo country Victoria. As the middle child Tasneem developed from an early age the skills of, and necessity for, negotiation. The components of this multicultural upbringing, the different threads of these fused identities have lead Tasneem to where she is now – which is to pursue a cross cultural consultancy. Building, consolidating and mentoring communication across a wide and diverse range of communities.
One of Tasneem's first awareness of minorities was when as a school girl in Bendigo the popular "rock group" Goanna had a concert in Bendigo and sang their hit with words like "white man, white woman, white land" which was so totally different to what she was being taught about Australian history! Following this she became fascinated by the Nelson Mandela and South African experience, especially how it manifested itself into social change resulting in her increased involvement in effecting social change through volunteer work and other social work activities in her local community. Subsequently Tasneem started working for a NGO in Swaziland working with the socially and financially underprivileged.
Back in Melbourne Tasneem wears many "hats" (turbans) providing guidance, counselling and communication between minority communities. She is committed to achieving change through the "grass roots" and challenging norms by confronting people's challenges.
Refusing to accept people's perception of "Islam (especially women) she engages in healthy debate and the current awareness of what is actually happening. Firmly of the commitment to be "spoken with rather than spoken about".
Frustrated by what she believes is "lazy sensational journalism" which leads to misrepresentation and then the need for a community to go into overdrive to counteract, Tasneem is constantly challenging the media to provided facts, to have an open position and to be transparent in their dealings. This was demonstrated by several examples where recent atrocities one being in Denmark where it was attributed not to "terrorists restoring Christian values" but as a "mad man".
Tasneem argued that there are many very successful Islamic lawyers, doctors, teachers, journalists etc but the media focus more on the minority fringe.
In closing Tasneem very sadly listed numerous examples where here in Melbourne Islamic women have been the subject of racial, verbal and sexual attack, more so in the last 3 months then even after 9/11.
Tasneem left with us the fact that unfortunately there is more discussion and awareness about Islamic women wearing of hijabs and burqa's than about the thousands that don't. Australian's (and globally) there needs to be a greater awareness and understanding of the Islamic community.