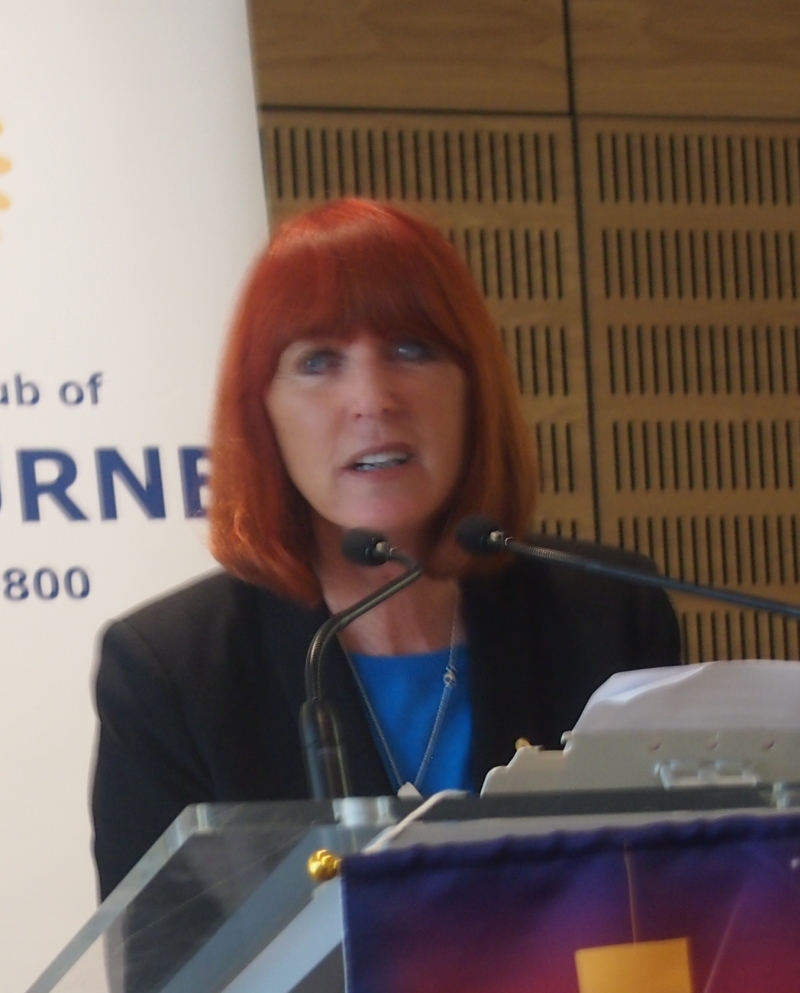 LUNCHEON - 3RD DECEMBER 2014
Speaker: Susan Barton AM, Homeless champion
Topic: "The Journey To Recovery: Seeking Better Outcomes For Homeless Youth"
Chairperson: Philip Endersbee
Susan Barton has dedicated her life to helping Australia's homeless young people. Her story began in an orphanage in Sri Lanka in 1976 where she held a baby suffering desperately from malnutrition. Just hours later the baby died and at that moment Susan vowed she would never again feel so helpless, so unable to do anything. When she returned to Australia Susan began fostering children in her own home. In 1991, she launched the Lighthouse Foundation, a charity for young people providing not just somewhere to sleep but also the essential emotional support they needed. Over the past two decades, Susan has expanded the number of Lighthouse houses to 10, each providing a safe, secure place to live for up to four young people and their round the clock carers. Financed mainly by community donations, the houses have given more than 600 young Australians a new start in life. Many come from dysfunctional families and the Lighthouse Foundation has given them stability, care and a sense of belonging. The Foundation's work has also served as a model for educators, psychologists, business and government and encouraged them to adopt similarly holistic approaches to social policy.
Susan has been recognised with a Member of the Order of Australia in 2002, and Melburnian of the Year in 2009. In 2012 she was inducted to the Victorian Honour Roll of Women for her significant achievements and contribution to the Victorian community. Susan values especially dearly the awards she has received from her fellow Rotarians: the Vocational Service Award and being named a Paul Harris Fellow. In 2014, she was recognised by The Australian Financial Review and Westpac as one of Australia's 100 Women of Influence. Through her passion, drive and insight, Susan has already changed the way our society responds to youth homelessness.
The following link gives some background to the Lighthouse Foundation https://www.youtube.com/watch?v=CeA_gnAJAts
Synopsis Of The Lunch:
Last week the Club was privileged to be addressed by one of our own members, Susan Barton AM. Those present were so inspired when listening to her powerful message and witnessing the emotion pouring out of every pore of Susan's tiny but very powerful body all were moved to stand as one at the conclusion acknowledging Susan with a rarely given standing ovation. Susan is publicly recognized throughout Australia for her tireless efforts in caring for young people through the organisation that she founded over 30 years ago, the Lighthouse Foundation.
The expression of 'always giving a job to a busy person' certainly applies to Susan who whilst doing all that is involved with Lighthouse has managed to raise 6 children of her own including 2 that were adopted and proudly informed all present she has 11 grandchildren and another on the way.
Susan believes that homelessness affects all of us in society and, together, we can work to alleviate and ultimately bring it to an end. Her life's mission is to change the way Australia looks at the issues and consequences of youth homelessness, moving towards a more therapeutic approach on the journey to recovery. She is passionate about protecting Australia's number one asset– OUR YOUTH.