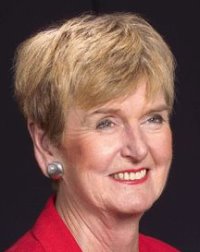 VALE Past President Anne Jacques
29th December 1938 – 11th August 2014
Anne was born in Cheshire in England and educated at Trinity College Dublin, where she gained degrees in Arts and Commerce and a Diploma in Social Studies.
She migrated to Australia with her first husband in 1962 and worked as a professional social worker in the psychiatric field, occupying senior positions in the Doncaster area, and subsequently as Executive Director of the Victorian Council of the Ageing, (VCOTA), which she held for 13 years.
Anne's first association with our Rotary Club started with VCOTA which was established by our Club in association with the National Council of Women.
Anne was also President of the Association of Social Workers, Charter President of Melbourne Toastmistress Club and a member of many government committees. She proposed the concept of Senior Citizens' Week to the then Premier, John Cain, and was involved in the planning of the now well established Seniors' Card.
In 1984-85 Anne became closely associated with Rotary when her second husband, Gordon, became President of the Rotary Club of Donvale.
In 1990 she was the tenth female member to be inducted into our Club, and was very active in the 1993 World Rotary Convention which we hosted here in Melbourne, and in which she was the Vice Chairman of the House of Friendship. A member of the Club Board from 1995 to 1997 and Vice-President in 1998-99, Anne was appointed first woman President of our Club in 2004-05, the centennial year for Rotary. This was a very successful year in the history of our Club.
Anne had previously been named a Paul Harris Fellow in 2000. Anne was also busy at District level on the Group Study Exchange Committee.
In the early 1990's Anne and Gordon moved to Sorrento and they joined the Mornington Peninsula Group, Anne succeeding the founder, John Morgan, as Group Captain, a position she held until 1995. Anne and Gordon have been stalwarts in supporting this Group and have often hosted group meetings at their home.
Anne will always be remembered for her enthusiasm, breadth of interest, warmth and encouraging personality, her wisdom and her commitment to Rotary. She will be sadly missed by all who knew her.