LUNCHEON - 15TH OCTOBER 2014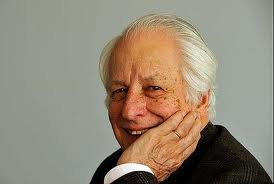 Speaker: Sir Gustav Nossal AC CBE - at Zinc at Federation Square
Topic: "…Really interesting stuff!..."
Chairperson: Rob Medcalf
Following the retirement of Macfarlane Burnet in 1965, at the age of 35 Gustav Nossal became director of Walter and Eliza Hall Institute of Medical Research, a position that he kept until 1996. In parallel, he was Professor of Medical Biology at the University of Melbourne. Nossal's research is in fundamental immunology, in the field of "antibody formation and immunological tolerance". He has written five books and 530 scientific articles in this and related fields.
Gus has been President (1986-1989) of the 30,000-member world body of immunology, the International Union of Immunological Societies; President of the Australian Academy of Science (1994-1998); a member of the Prime Minister's Science, Engineering and Innovation Council (PMSEIC) (1989 to 1998); and Chairman of the Victorian Health Promotion Foundation (1987-1996). He has been Chairman of the committee overseeing the World Health Organisation's Vaccines and Biologicals Program (1993-2002) and Chairman of the Strategic Advisory Council of the Bill & Melinda Gates Foundation Children's Vaccine Program (1998-2003). He was Deputy Chairman of the Council for Aboriginal Reconciliation from 1998 to 2000. He is Chairman of the Advisory Committee of the Global Foundation. The purpose of the foundation is to "encourage Australia's sustainable national development in a global context." Sir Gustav is a member of the Patrons Council of the Epilepsy Foundation of Victoria and of the Advisory Board of the Health Impact Fund.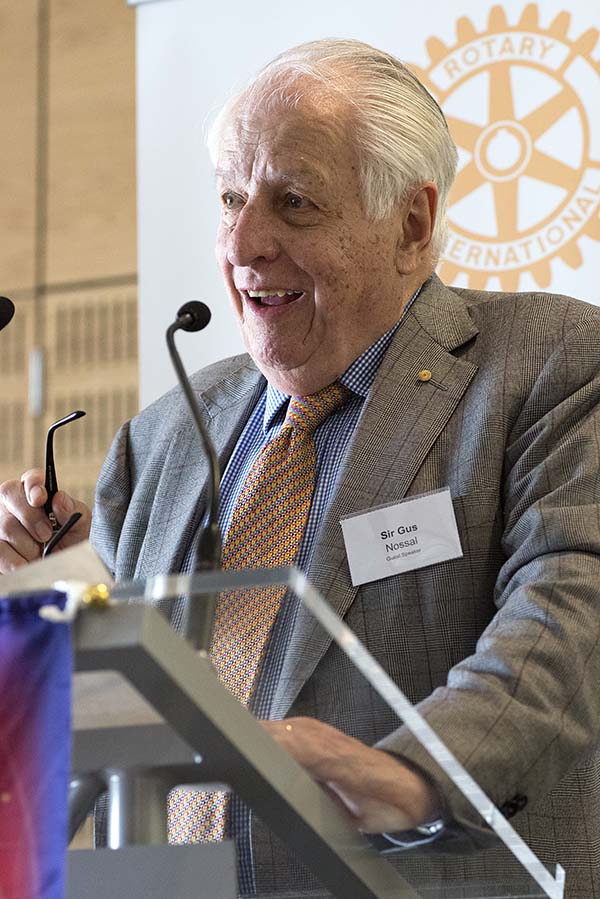 Synopsis Of The Lunch:
Our speaker last week is one of the most eminent medical researchers in Australia, Professor Sir Gustav Nossal. Gus (as he prefers to be called) was formerly Director of the Walter and Eliza Hall Institute here in Melbourne, a position he held for over 30 years, ending in 1996. Gus has been a long standing ambassador for science but he has also been a strong advocate for a number of other important areas, particularly in Global Health which was the topic of his presentation today. In the opening remarks by Rob Medcalf, we were reminded about the numerous achievements of Gus Nossal, including his Knighthood in 1977, being Australian of the year in 2000, and among the long list of other accolades, being awarded the inaugural Rotary Club of Melbourne Monash Medal for his outstanding leadership, integrity and service in 2010.
Gus spoke about the challenges facing us in the area of global public health. We were reminded about the widespread attempts to eradicate polio infection and other endemic diseases including Dengue fever. Although substantially reduced worldwide, polio cases are still being reported in three countries (Nigeria, Pakistan and Afghanistan). Current efforts to eradicate polio rely on vaccination and this is difficult to implement in some areas. We were also informed of breakthrough research from Melbourne based scientists who are developing novel approaches to halt the spread of Dengue virus by targeting the means by which the virus is propagated through mosquitos. Gus commented on the status of current AIDS vaccines and that this is still a difficult situation but with some vaccines on the horizon. On the philanthropic front, we were reminded about the substantial financial contributions by the Bill and Melinda Gates Foundation to support the various world-wide vaccination programs and also how this is likely to be complemented sometime soon with philanthropic support from Warren Buffett.
Gus spoke with his usual elegance and smooth nature. We were all treated to a marvellous presentation by and exceptional individual.