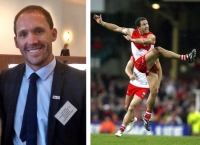 LUNCHEON - 8TH OCTOBER 2014
Speaker: Luke Ablett
Topic: 'Live & Learn Environmental Education'
Chairperson: Warren Johnson
Luke Ablett, played 133 games with Sydney Swans from 2002-2009. He is the son of former Hawthorn player Kevin Ablett, and nephew to the legendary Geelong player Gary Ablett.
Luke has just returned from a year as volunteer with the Red Cross, posted in Vanuatu, with the NGO Live & Learn Environmental Education.
He defines himself as a feminist, masters student and failed vegetarian.
His latest passion is using sport to stop violence against women in Pacific countries.
As with other parts of Asia-Pacific, men's violence against women is a significant issue in Vanuatu. A recent study by DFAT found that 60% of all Ni-Vanuatu women experience physical or sexual violence in their lifetime by husbands/partners and for 90% of these women the violence was severe. Men's violence against women is commonplace throughout Vanuatu, so challenging the attitudes that permit this ongoing violence is paramount to its prevention.
Live & Learn Vanuatu has just completed a Respectful Relationships (RR) program with the Vanuatu U17 boys National Cricket team. This program was developed throughout the early parts of 2014 and drew heavily on a Men Against Violence Against Women program implemented by Live & Learn Solomon Islands. The RR program challenged the attitudes and behaviours that contribute to and condone men's violence against women. While most violence prevention programs target women in violent relationships, the RR program takes a different approach – and targets men as those with the power to prevent it.
Luke Ablett, RR project manager and Red Cross volunteer with Live & learn Vanuatu, recently had the opportunity to present this case study at an Australian parliamentary breakfast for Sport Matters in Canberra. Speaking alongside Senator Brett Mason and Deputy Leader of the Opposition, Tanya Plibersek, Luke had the opportunity to highlight the significant issue of men's violence around the world and emphasise the role that sport can play in development and driving social change.
Synopsis Of The Lunch:
The Club was delighted to welcome two outstanding Victorians to speak at our lunch on Wednesday 8 October 2014, both of whom are working in the area of international aid.
Luke Ablett a former Sydney Swans player opened the talks speaking of his current passion for preventing violence against women. He gave some alarming statistics to illustrate the need for action. Luke emphasised how valuable it is to use sport as a vehicle to involve and engage young men in looking at the issues around violence and women. He has recently returned from working as a volunteer running a project in Vanuatu where there is a high incidence not just of domestic violence but violence in general amongst young men. Luke went on to speak of his experiences, one of which was working with the under 17's national cricket team. His talk was well received and there was much admiration shown for his work.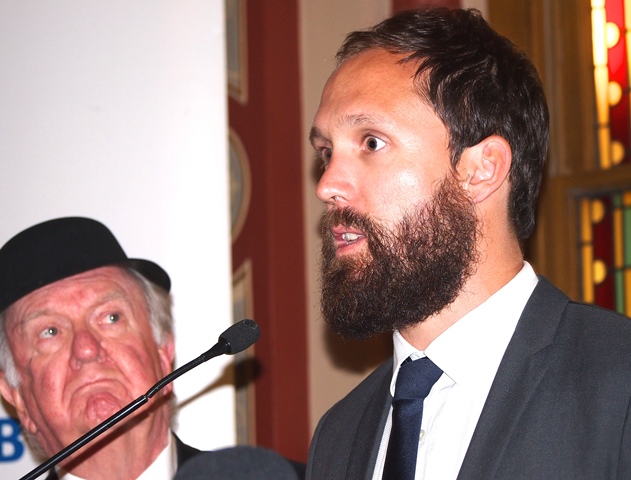 Chairperson Warren Johnson introduces guest speaker Luke Ablett.
Karen Young has worked in international aid for the last 8 years and currently works for Live and Learn Environmental Education and is CEO of Assisi Aid Projects. She gave a report on a recent visit to East Timor to assess the progress of the Infant and Maternal Mortality Project run by the Alola Foundation which was set up by Kirsty Sword Gusmao. This is a combined project of Assisi Aid Projects and RCM with added financial support from the Baked Foundation and DFAT.
Karen illustrated her talk with a compelling set of photographs of the people who are involved in this educational programme either as facilitators or recipients. While the results coming through are encouraging there has been insufficient time for significant changes to occur in the statistics. The big challenge to this initiative will be its future once the current funding is exhausted.