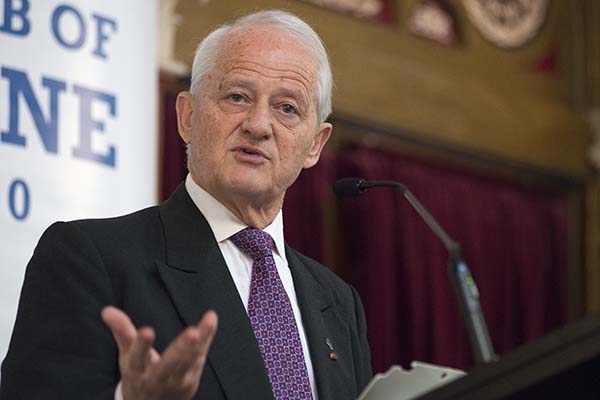 LUNCHEON - 17TH SEPTEMBER 2014
Speaker: Hon Philip Ruddock MP, Federal Member for Berowra
Topic: 'Ethical and Practical Issues around the Asylum Seeker Question'
Chairperson: Gerald Ashman
Philip Ruddock was first elected to the House of Representatives as the Member for Parramatta, New South Wales, at a by-election on 22nd September 1973. Since 1992 until the present he has held the seat of Berowra. The electorate of Berowra blends high density suburban areas with a semi-rural fringe. Having held a number of Shadow Ministry portfolios Mr Ruddock was appointed Minister for Immigration and Multicultural Affairs from 11th March 1996 through to 7th October 2003. This made him the longest serving Federal Immigration Minister.
During this period he also had responsibility for Reconciliation and Aboriginal and Torres Strait Islander Affairs. On 7th October 2003 he was sworn in as the Federal Attorney-General, an appointment he held until the Federal Election on 3rd December 2007.Following the election of the Abbott Government in September 2013, Philip was appointed Chief Government Whip.
He has wide committee experience having served on the Joint Standing Committee on Foreign Affairs, Defence and Trade; the Joint Standing Committee on Intelligence and Security; Coalition Foreign Policy and Defence Committee; and Coalition Legal and Immigration Committee.
With degrees in Arts and Law from Sydney University Mr Ruddock practised law prior to entering parliament. He resides in Pennant Hills, in the heart of his electorate with his wife.
Synopsis Of The Lunch:
At last week's meeting our guest speaker The Hon. Phillip Ruddock MP spoke on the ethical and practical issues concerning refugees and asylum seekers. He spoke from a position of knowledge, authority, experience and passion .He served as Minister for Immigration for over seven years, longer than any previous or later Minister.
He emphasized support for securing our borders from illegal boat arrivals arguing that control allows for an orderly migration and refugee resettlement program. He also highlighted Australia's record in accepting refugees from UNHCR camps. Australia accepts over 13,000 refugees per annum from these camps giving us the highest per capita intake of all nations with only the US and Canada coming close to our per capita intake. In response to the demands for a greater intake he quoted the cost of resettlement at $1 billion per 1000 refugees and posed the question of how a greater intake would be funded – increased tax or a cut back of existing services.
He describes himself as "a Liberal for refugees", believing asylum seekers languishing in international camps should be Australia's priority, rather than those who come by boat. Mr Ruddock highlighted the range of services provided by government to those who are accepted as refugees including health, language training, .accommodation, trauma counselling, and a range of other programs to assist in their assimilation into the community. He made the point many of these people have suffered trauma and abuse and require special assistance to get back to a normal life.
Mr. Ruddock noted in recent years most, if not all, boat arrivals landed or were intercepted with no identity documents although they had travelled through customs and immigration of other countries before embarking on the boat journey. It is his view most of these boat asylum seekers are economic migrants and not escapees of persecution. The turn back the boats policy is central to breaking the people smugglers business model and supporting the UNHCR resettlement program.
The Father of the House, the Hon. Phillip Ruddock MP was warmly welcomed by all upon his arrival. His well-crafted and professionally delivered address clearly prosecuted the vexing and highly emotional 'boat people' asylum seeker debate that is constantly on the front pages of the national daily media concerning the cohort of people seeking to live in Australia by illegal entry and without legal documentation. His presence was greatly appreciated by all in attendance.