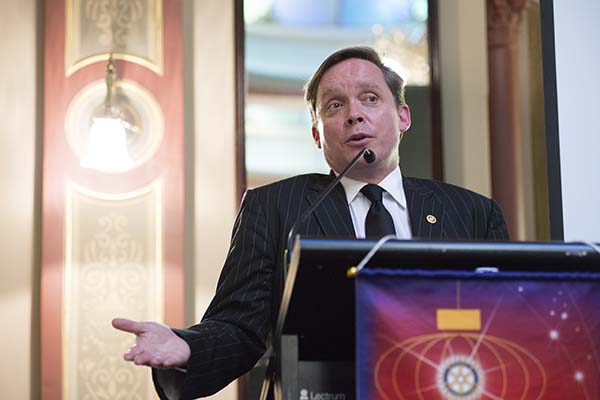 LUNCHEON - 27TH AUGUST 2014
Speaker: Tony Ellwood, National Gallery of Victoria Director
Topic: 'NGV Contemporary'
Chairperson: Peter Payne
Tony Ellwood is Director of the National Gallery of Victoria (NGV). He began his career as an Aboriginal Art Coordinator, working at Waringarri Aboriginal Arts, Kununurra; then worked as a Curator at the NGV, specialising in major international curatorial projects. He was Director, Bendigo Art Gallery; Deputy Director – International Art, NGV and Director of the Queensland Art Gallery | Gallery of Modern Art (QAGOMA) prior to returning to the NGV as Director in August 2012. Many important exhibitions presented in Australia in the past decade have been under Tony's direction. He has also written and edited numerous publications and articles.
Tony has been on several state and Commonwealth boards, including the Visions of Australia Committee, Museums Australia National Board, the Victorian College of the Arts Board and Academic committee; the Art Exhibitions Australia Board and the Japan–Australia Foundation Board. Tony was also on the selection committees for the 2005 and 2009 Venice Biennales.
Synopsis Of The Lunch: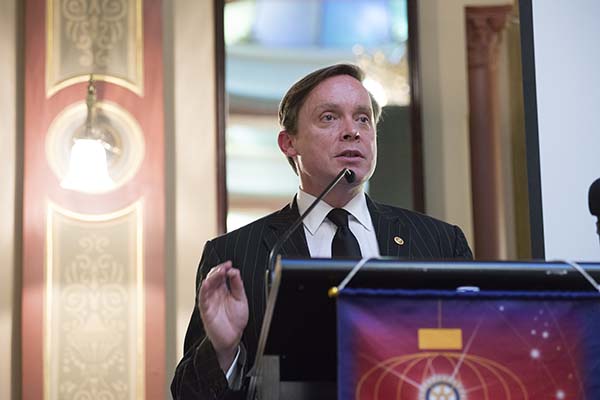 Tony Ellwood, Director of the National Gallery of Victoria, gave Rotarians a wonderful presentation of what's been going on at the NGV since he took the reins from Gerard Vaughan in 2012.
Using a PowerPoint full of photographs of art and activities around the NGV, it was a real 'tour de force' and emphasised the incredible importance of the Gallery and Arts in general to the Melbourne and Victorian community. The 'Melbourne Now' exhibition this year was a huge success with some 750,000 visitors with Tony reminding us, the NGV is now the most visited gallery or museum in Australia - indeed one of the highest in the world.
Melbourne Now was also a good example of his interest in contemporary art and led naturally into the subject of the talk - NGV Contemporary. This reflects the start of a campaign to encourage politicians and members of the public to support the development of a third gallery focused on contemporary art complementing NGV International in St Kilda Road and NGV Australia in Federation Square.
Expanding on the concept, he drew a parallel with the impact that Tate Modern London, MONA Hobart, and the Guggenheim Bilbao had had on their respective cities.
What a visionary and exciting idea for Melbourne. The questions were spirited and well received proving, yet once again, the appreciation of art is a very personal emotion.