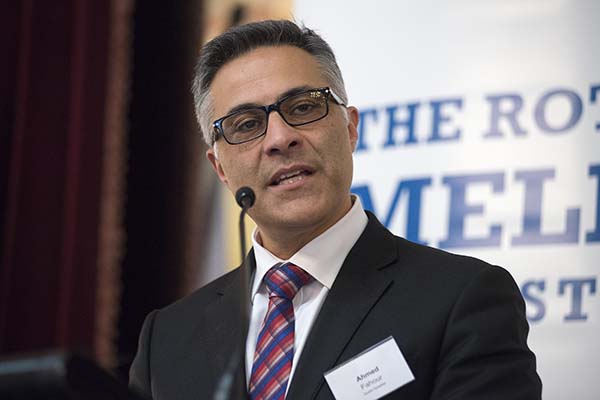 LUNCHEON - 20TH AUGUST 2014
Speaker: Ahmed Fahour, CEO & Managing Director Australia Post
Topic: 'The Challenges faced by Australia Post in an Increasingly Digital World'
Chairperson: Peter Duncan
Ahmed Fahour is the Managing Director and CEO of Australia Post.
He has previously held senior leadership roles with Boston Consulting Group, with Citigroup (in New York) and as the CEO Australia of NAB.
He is a director of Pro-Pac Packaging, of Methodist Ladies College and of the Carlton Football Club.
Synopsis Of The Lunch:
Ahmed Fahour, CEO of Australia Post, gave a stimulating presentation on the challenges faced by his 205 year old organisation, as it seeks to cope with a world in which the delivery of mail in huge quantities to Australia's population, the original purpose for which Australia Post was founded, is rapidly replaced by electronic communication.
30% fewer letter are being delivered than in 2008 (and only 3% of the letters which are delivered are personal mail). So far this decline has been offset by rapidly increasing deliveries of internet-ordered goods but this will not suffice in the longer term. New services will have to be developed and these are actively being developed.
Australia Post is possibly the most trusted brand in Australia and the challenges of ensuring that it thrives in the future are great. It was good to understand some of the ways in which they are being confronted.