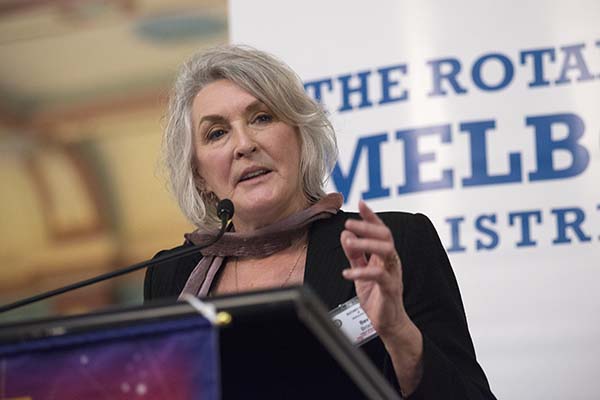 LUNCHEON - 30TH JULY 2014
Speaker: Rotarian Bev Brock
Topic: "The Underlying Psychology of Successful Communities"
Chairperson: Jan Moffatt
Bev Brock was born and raised in West Australia. At 22, Bev Brock dived into shallow water and broke her neck. She was told she'd never walk freely again. A few months later she was out dancing in a neck brace, and playing basketball the day the brace came off. Bev Brock does not break easily.
You could say her life changed pace in the almost three decades she spent with motor-racing legend, Peter Brock, raising a young family and helping to steer him through life in the spotlight. She is a former teacher and life counsellor, an author and public speaker, and a passionate environmentalist and road-safety advocate. She is patron of the Lighthouse Foundation and sits on the board of the Skyline Education Foundation. Bev was awarded the Prime Minister's Centennial Medal. She is a mother of three and grandmother to six.
After enduring more than her fair share of ups and downs – including the heartbreaking public separation from racing-car legend Peter Brock, and the messy legal battle that left her flat broke – Bev continues to celebrate life with inimitable wit, warmth, honesty and optimism.
Synopsis Of The Lunch:
Last week's speaker was our own Rotarian Bev Brock. Her talk was entitled "The Underlying Psychology of Successful Communities".
At the outset Bev said that the thought of coming to her own Rotary Club had upset her notwithstanding that she had spoken at International Conventions in the past. She then realised that she was concerned because it was a personal speech she was giving to her community, namely the Rotary Club of Melbourne.
Bev then told us about her early years growing up in an isolated part of Western Australia. She was one of 7 children in an asbestos house and said that she had an idyllic upbringing in a simple community which knew that to survive they all had to look after everyone within that community. She said that in that community no one slipped through the net and this experience stood her in good stead for the rest of her life.
Bev then said that every time there has been a change in her life there was been a community behind her.
Bev then turned her focus to the Rotary Club of Melbourne. She indicated that on one level we believe we know our fellow members then gave all attendees the opportunity to talk to the person next to them to find out something that they previously didn't know about that person. This little exercise highlighted that most people do not know much about other people within the Club. She asked the question "how can we therefore look after the community if we do not know each other?" Further stating "any community is only as good as the people in it". Bev then encouraged every member to get to know others within the their Rotary community to look out for each other, to look after one's own health, in order that the Rotary Club of Melbourne can better assist the community.