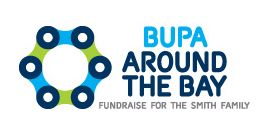 AROUND THE BAY IN A DAY 2014
Its on again......act now to support it or assist with it ....
Following the terrific success of this event in previous years, Melbourne Rotarians are again participating in the Around the Bay in a Day 2014 event, to be held on Sunday 19th October 2014, run by Bicycle Victoria and volunteers for the benefit of the Smith Family.
The Smith Family supports a Learning for Life student program scholarships with funds to keep disadvantaged children in school throughout the term of their education.
RCMelbourne will enter a team, with riders choosing their distance (e.g. 50 km, 100km, 135km, 210km or up to the full ride of 250 km).
Currently, the RCM team comprises eight starters - Philip Endersbee, Richard Parker, Patricia Parker, Peter Davis, Doug Marshall and Peter Lake. It's not too late to join "Team Rotary" as a rider - just make contact with Philip Endersbee or follow these instructions:
1. Purchase your Bupa Around the Bay in a Day ride entry via:
http://www.bicyclenetwork.com.au/shop/
2. Then join our team at:
http://www.bicyclenetwork.com.au/shop/prefs/
3. Go to "Team" and search for "Team Rotary".
Each rider pays a participation fee and seeks sponsorship from fellow Club members, family and friends.
Club members are encouraged to sponsor a rider(s) from our Club. This can be done in one of the following ways:
by sending a cheque payable to RCM Community Foundation to the Club office; or
by sending a cheque to the rider of your choice; or
by donating online through the event website by clicking here. This option will open the Team Rotary rider list wherein you can select which rider(s) you wish to sponsor by then clicking the "Sponsor" button beside the rider(s) name and following the instructions; or
by signing up as a sponsor at future luncheon meetings.
Importantly, the Club needs volunteers (members, partners, older children and friends) to sign up to act as route marshals and would like to have close to 45 in total. Designated route spots for volunteers to assist are between Alexandra Gardens to Altona or Elwood. This commitment would generate an additional $2,250 from Bicycle Network Victoria.
This year we are being joined by our e-Club and the Kangan Youth Foyer staff and students.
Please contact Trevor Nink if you are interested in assisting as a volunteer on the day.
If you have any questions about the event, please contact Trevor Nink either by phone on 0404-084-283, or email to Trevor by clicking here.
Click here to access the Around The Bay In A Day 2014 website for more details about the event.
Click here to access the Smith Family website.