LUNCHEON - 23RD JULY 2014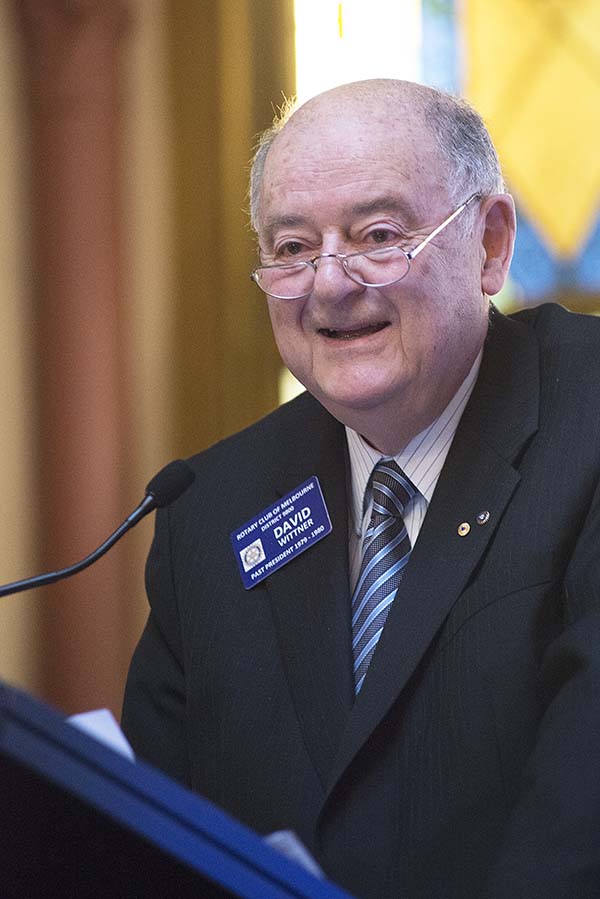 Special Celebration Day: 'David Wittner – This is Your Life'
Topic: Acknowledging and Celebrating 50 years of contribution to the Rotary Club of Melbourne
Chairperson: Chris Knight
A very special day in the unfolding history of the Rotary Club of Melbourne will be celebrated this Wednesday. Rotarian David Wittner AM PHF is celebrating with all his friends and colleagues 50 years of faithful Rotary service in this wonderful club. A potpourri of the half century of community service together with vignettes of David's life will be shared with all fortunate enough o be in his and his loving wife, Rosette's company on Wednesday. This will be a day in the almanac of the Rotary Club of Melbourne that must not be missed. Be there to share in our and David's historical journey.
Synopsis Of The Lunch:
All present were in high spirit last Wednesday celebrating the 50th. Anniversary of PP David Wittner's membership of our club. Past Presidents, Past District Governors, family, friends, Rotarians from other clubs and members of our club all assisted in offering David their congratulations, fellowship and friendship by their presence at a most happy meeting.
A potpourri of photographs accompanied by beautiful commenced the meeting causing all attendees to get into the spirit of celebration.
Long standing Rotary colleagues followed commenting on David's commercial and community activities before David was invited to address the gathering. This he did in typical Wittnerian fashion, his words, as always, thoughtful, temperate and unstinting. David is a man of moderation, mild of manner and wise of thought and deed. He is also rich in life enjoying good health, the love and company of his beautiful wife, Rosette and the love and respect of his three children, Michael, Peter and Debbie.
Last Wednesday was a very special day in the annals of the Rotary Club of Melbourne with all present and, surely those unable to attend, celebrating 50 years of unstinting service from a most highly respected gentleman through his membership of Rotary and the broader community.