LUNCHEON - 28TH MAY 2014
Speaker: Gareth Andrews
Topic: 'Have you done your best work yet?'
Chairman: Stephen Mandie
Gareth Andrews has worn many hats in his life through sport, media, business and family. His football career has spanned 48 years in the VFL and AFL. After playing 167 games from 1965 to 1975, including being a member of the Richmond 1974 Premiership side, Gareth became CEO of Richmond Football Club in the late '70s and then went on to work for 10 years on ABC Radio and Television, including hosting the national football program, "The Winners". For 10 years Gareth was "The Analyst" for the Sunday Age and from 1998 to the end of 2013, Gareth was Vice-President of the Geelong Cats. He has been a vital link in a Club that has become a force both on the field – 3 Premierships – and off the field.
Having sold his successful property business, Gareth is now enjoying promoting his passion, the "Life Again" Foundation, which aims to inspire and connect men through times of change. Gareth talks about his own journey, its highs and lows, including depression, anxiety, marital breakdown and financial stress. His story is one of how men lose their way in life, but more importantly, how men can change and lead a more fulfilling and purposeful life.
Gareth challenges men and asks the question: "Have You Done Your Best Work Yet?"
Synopsis Of The Lunch: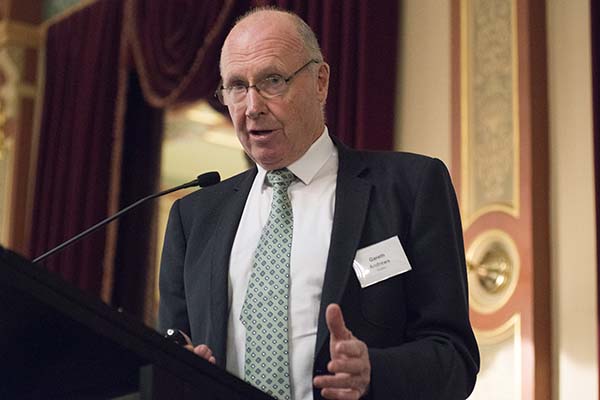 Last week's speaker, Gareth Andrews (pictured above) spoke about The Life Again Foundation, which he founded with one primary objective; to inspire and connect men through times of change
"Have you done your best work yet" was the basis of Gareth's talk. He spoke about how men face substantial challenges. Challenges like career transition, dissatisfaction, divorce, loss, financial pressures, low self-esteem and general malaise of the fast-paced modern lives we lead. But with meaningful connection, men can be supported positively during periods of personal and mental change.
Gareth drew the analogy of how women successfully talk, so openly and frankly with each other about any situation that is going on with their lives. Men will talk about how well or badly they did in golf etc. etc. nothing too deep and meaningful. Gareth shared his experiences, the up and downs. In particular when one day he "hit the wall" and started crying uncontrollably. He was diagnosed with chronic depression. Many changes went on in Gareth's life at the time, from retiring from AFL/VFL football, divorce, change in profession and more.
By honest and frank connection men can receive positive peer support through periods of change, uncertainty and the unknown; it's O.K. for men to share their stories. Gareth posed the question to all "Have you done your best work yet?" In most cases men haven't and this can lead on to a new lease of life. Gareth expressed strongly that in later life men still have so much to offer and should embrace without fear the following:
1. They are not alone, 2. Take risks, 3. Give, 4. Keep learning, 5. Be a mentor, 6. Get healthy, 7. Spend time contemplating. These seven points will enable you "TO BE THE BEST YOU CAN".