DIK STORE - 300TH SHIPPING CONTAINER MILESTONE
The Rotary Donations In Kind (DIK) project is proud to announce that their 300th shipping container of goods has recently been dispatched to Timor-Leste.
The DIK project has sent $30 million worth of goods to Timor-Leste.
Timor-Leste's Honorary Consul in Victoria, Ms Rae Kingsbury, said that Rotary's DIK program had made a real difference to the lives of thousands of the country's citizens.
"Rotary DIK has sent everything from school and medical equipment to household items, clothing, tools and utensils to Timor-Leste", Ms Kingsbury said.
"I, the government and the people of Timor-Leste wish to express our heart-felt thanks to the tireless work of Rotary Clubs on behalf of Timor-Leste and in particular the work of Rotary's DIK program."
As well as the $30 million worth of goods that have been shipped to Timor-Leste, Ms Kingsbury said that a further $1.8 million had been raised for freight and 70,000 volunteer hours involved in packing the containers.
Ms Kingsbury said that the goods sent to Timor-Leste were donated by caring Australians and, through Rotary connections overseas, given for free to people in genuine need.
"This is a particularly effective form of aid," Ms Kingsbury said.
"That is especially the case with Rotary's donations of still much needed quality educational and medical equipment."
The full text of a Press Release by Ms Kingsbury can be read by clicking on the hyperlink below.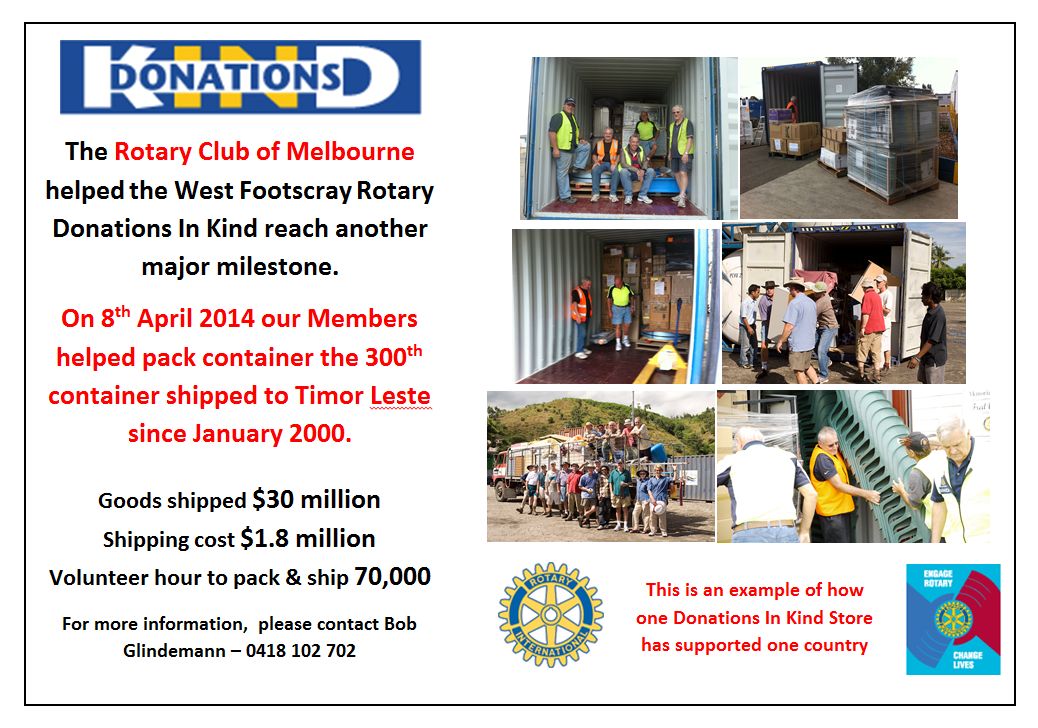 Click on the above images to enlarge