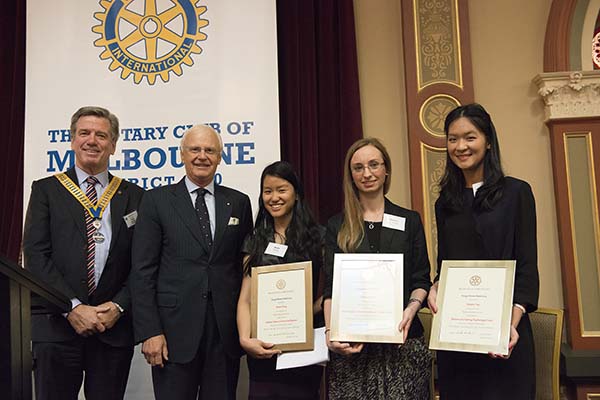 LUNCHEON - 19TH MARCH 2014
Young Achiever Awards 2014 presented by The Hon Alex Chernov AC QC, Governor of Victoria
Chairman Hugh Bucknall
This will be the twenty-second year of the Rotary Club of Melbourne Young Achiever Award. Three Young Achievers have been selected to receive Awards today. The Awards will be presented by Club Honorary member, The Hon Alex Chernov AC QC Governor of Victoria
In its 22nd year of acknowledging excellence in education, training, and vocational contributions to our community the Club recognises and honours outstanding young achievers with a Young Achiever Award. Recipients of the Award are selected by members of the Club's Vocational Service Committee; are between the ages of 18 and 26 and have shown outstanding success in their formal education, making a significant contribution in the form of service to the community.
The three Young Achiever awardees will address the Club of their achievements and plans and each will receive a cheque for $1000 and a Certificate of Achievement.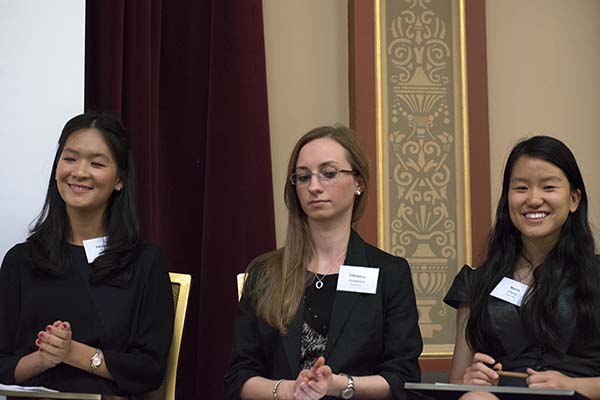 Synopsis Of The Lunch:
Oh to be a Young Achiever -
Have you ever invented a robotic arm that helps disabled people live normal lives? Or tutored disadvantaged youth while also completing studies at Oxford? Or been of field visits with the Flying Doctor to deal with rural health issues? And did you do it by the time you were 25? Three Young Achievers who received awards last week did exactly that plus more!
Marita Cheng, Sarajane Ting and Christina Jovanovic were presented with the 2014 Young Achiever Awards by the Governor, the Honourable Alex Chernov AC, QC and clearly demonstrated that we should have great faith in the contributions, aspirations and motivations of young people everywhere to make significant contributions to people in need.
We salute them.
We thank the Governor and Mrs. Elizabeth Chernov for supporting such a splendid event. We look forward to hearing more about how these young folk progress in life full of success and contribution. Last week's meeting highlighted the achievements of so many within our community.
The Governor, the three awardees and the extraordinary effort by members of the Vocational Services Committee, particularly Vice President Hugh Bucknall, who crafted an extraordinary experience for all those present are to be acknowledged and thanked. Well done to all.