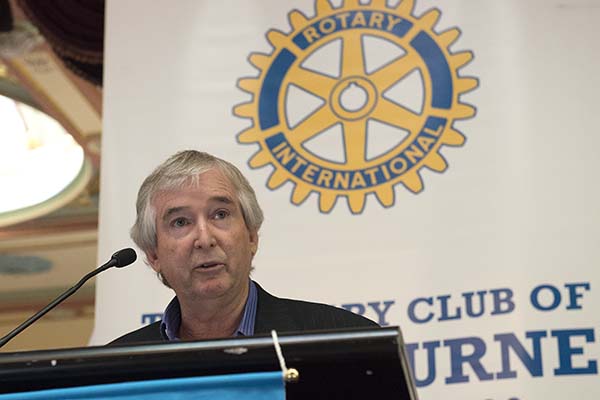 LUNCHEON - 12TH MARCH 2014
Speaker: Neil Chatfield, Non Executive Director and Chairman of Seek Limited, Homeground Services and Virgin Australia Holdings Limited.
Topic: 'The Aviation Industry is important. Having a home is even more so.'
Chairperson: James Pullar
Neil Chatfield has almost 40 years' experience in Transport and Resource Industries and served as the Chief Financial Officer of Toll Holdings Limited for over 10 years until 2008. He has since embarked on a career as a non-executive director of major Australian public companies. He is currently the Chairman of Seek Limited and of Virgin Australia Holdings Limited. He is also Deputy Chairman of Grange Resources Ltd. and a Director of Transurban Group Limited and of Recall Limited. He was previously a Director of Whitehaven Coal Limited. Neil's business experience has seen him at the forefront of major industry transformation,
He is a Fellow of the Australian Institute of Company Directors and a Certified Public Accountant and was awarded Australian Chief Financial Officer of the year in 2007.
Neil has for over 5 years been the chairperson of Homeground Services whose vision is "to end homelessness in Melbourne".
Synopsis Of The Lunch:
Our speaker Neil Chatfield, who is Chairman of Virgin Australia and HomeGround Services, addressed the club on the topic of "The Aviation Industry is important. Having a home is even more so."
Neil highlighted some of the ground breaking work HomeGround Services is doing in trying to fulfil its vision of ending homelessness.
He referred to the partnership with the Rotary Club of Melbourne and was very complimentary in acknowledging the contribution the club has made to HomeGround's work over the past five years.
Neil also spoke with passion about the strategy Virgin is following to create a competitive, high quality national airline and the challenges they face in the guerilla warfare they are currently engaged in with their much larger competitor Qantas. Neil is a most humane gentleman with a warm smile, a friendly hand and an obvious passion for making the world a better place in which to live, work and play. His Chairmanship of HomeGround Services, Seek and Virgin fit in superbly with his personal life's ambitions.