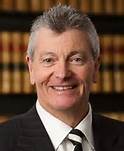 LUNCHEON - 26TH FEBRUARY 2014
Guest Speaker: David Galbally QC AM
Topic: 'Battles at the Bar – The Supreme Court Bar and Collingwood Members Bar'
Chairperson: Austen Burleigh
David is the son of one of Australia's greatest criminal lawyers, the late Frank Galbally and nephew of the highly respected Leader of the Opposition in the Legislative Council of the Victorian Parliament, the late Jack Galbally CBE. David is a leading Australian QC and an authority on corporate governance and risk management issues. He is a Partner at Melbourne commercial law firm, Madgwicks. His knowledge stems from an illustrious legal career as an advocate for companies and high profile individuals.
David at various times has represented Australia's leading sporting institutions including the Australian Football League and Cricket Australia. He has also worked on some of Australia's most high profile and complex corporate and criminal cases.
David often comments and gives his expert opinion on legal issues that arise in the media, and has been a legal commentator on 3AW's Neil Mitchell program for many years. His past sporting appointments include the Chairman of the Melbourne Knights Soccer Club and Board Member of the Collingwood Football Club.
David is Member (AM) in the General Division of the Order of Australia for significant service to the community, particularly through leadership in health organisations and the provision of pro bono legal services.
David has recently written and published a book, Galbally's Lore. It is a fabulous read and is highly recommended to all Melbournians seeking a genuine 'insiders' view from the other side of the Bar; the Supreme Court Bar and the Collingwood Members Bar. The Galbally name is synonymous with law, sport and ensuring a fair go to all and David carries that heavy responsibility with strength, dignity and much aplomb.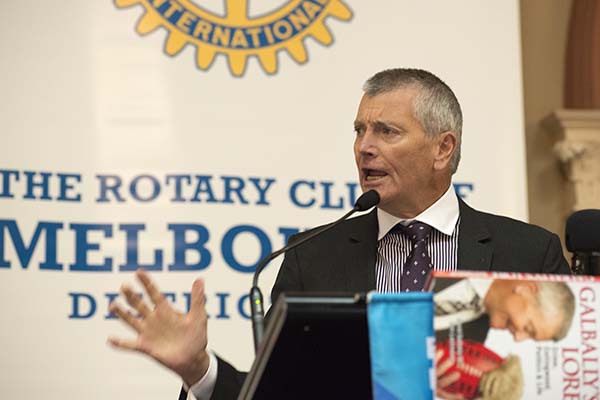 Synopsis Of The Presentation:
In a passionate and entertaining address David Galbally AM QC regaled us with anecdotes about some colourful characters from the "Painters & Dockers" era to today from the many years of involvement in legal representation of David and his father Frank. Poignantly, to illustrate the need for not discriminating against children of criminals, he related examples of children who have taken an honest and educated path in life. He believes today's crime is different because of the financial impact of drugs, and related violence; there has never been so much money. This has spawned a greed- and money-driven mentality which destroys life and civilization – the attitude to money has overtaken all.
Madgwicks Lawyers supports a charity each year. This year, ovarian cancer. David explained the reasons encouraging us to donate by purchasing his book "Galbally's Lore" which was available at the meeting.