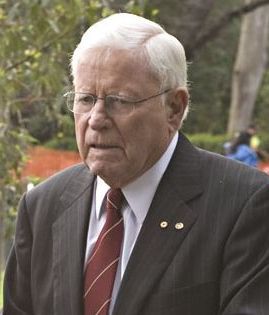 VALE Honorary Member Royce Abbey AO DCM
22nd June 1922 - 20th February 2014
With great sadness it is my melancholy duty to inform you of the passing today of Royce Abbey AO DCM, Past President Rotary International and Honorary Member of Rotary Club of Melbourne Inc.
Our friend, our Rotary Leader and Mentor to all who knew him, Royce will be sadly missed by all of us.

Royce has passed away following a short illness. As his family have asked for privacy and no phone calls for the moment, we would ask all to respect their wishes.
We will relay all further details as they come to hand.

Our thoughts and sympathies will be appropriately expressed to Jean and family on behalf of all.
Keith McNeil
President 2014/2014
The following is a brief synopsis of Royce Abbey's life:
Our esteemed friend and Honorary Member Royce Abbey passed away on Thursday, 20th February 2014 after a short illness.
Albert Henry Royce Abbey was born on 8th June 1922 in Footscray the fifth of seven children. He left school at 14 to work in one of the Wittner shoe shops. During the Second World War he served in New Guinea and was awarded the Distinguished Conduct Medal. He was demobilised in August 1946 with the rank of Lieutenant. After the war he and his brother started a manufacturing business in their backyard making venetian blinds. This venture became the publicly listed enterprise Dural Leeds Pty Ltd employing over 350 workers by 1960. When Royce left the company in 1974 it was the largest manufacturer of blinds in the Southern Hemisphere.
At his first meeting at the Rotary Club of Essendon he met Sir Angus Mitchell who took great personal interest in him. Royce enjoyed Rotary immensely although he never saw himself as a club president but as an inspiring public speaker, it was inevitable that he would take on leadership roles.
He attended his first Rotary International Convention in Los Angeles in 1962 twelve months before serving as President at Essendon. He became involved in the Rotary Youth Leadership Awards and the YMCA. As District Governor he attended the International Assembly of R.I. at Lake Placid, New York where he was introduced to Rotary's leaders. He was elected to the Board of Directors of R.I. for 1976/78 serving as Vice President and member of the Executive Committee in the second year of his term.
His Presidential year is acclaimed with his ambition to have Rotary recognised as a more legitimate and substantial force at an international level. One way of doing this was meeting and influencing heads of state; he met with many. The other was to cement Polio Plus as the major R.I. project for the next decade. A project of such magnitude would make national governments the world over realize that Rotary has the wherewithal to do great things for the world. It worked! The theme for his Presidential year was PUT LIFE INTO ROTARY-YOUR LIFE. Living by this motto for the previous 30 years it still resonates with all Rotarians to this day.
In recognition of his significant achievements, the District Governors of 1988/89 established the Royce and Jean Abbey Endowment Fund to train people from the poorer Asia Pacific nations to produce their own food. In 2004 the Rotary Club of Essendon established the Royce Abbey Award to recognise the commitment to Rotary objectives of new Rotarians. Over 200 of these awards have been made resulting in almost $250,000 being raised for the Endowment Fund.
Royce was made an Honorary Member of the Rotary Club of Melbourne in July 1988. He and Jean were frequent attendees at lunch meetings particularly at significant events making many friends within the Club. Over recent years they enjoyed the Mornington Peninsula Group meetings with several Group members involved in transporting them from Flinders.
Opening our club directory the first member listed is Royce Abbey and why not? He was our "Great Man of Rotary" who lived his life through Rotary ideals. He was a truly great leader, mentor and friend and we all will miss him greatly.
More can be found about Royce's prodigious Presidential year in a biography at:
http://www.rotaryfirst100.org/presidents/1988abbey/index.htm