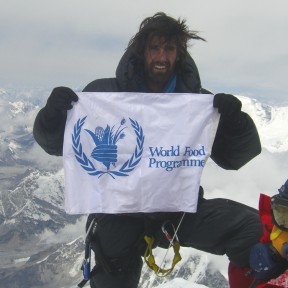 LUNCHEON - 19TH FEBRUARY 2014
Speaker: Mark Squirrell, Speaker, Author and Exteme Perfomance Guru
Topic: 'From Arafat to Everest'
Chairperson: President-Elect Peter Bearsley
Mark Squirrell, more commonly known as Squiz, was born in Melbourne and grew up on a small hobby farm in Arthurs Creek before obtaining a Bachelor of Business from La Trobe University. Whilst studying at university he served part time in the Australian Army and was subsequently commissioned as an officer in March 1992. His passion for challenges and outdoor activities drove him to focus his attentions on pursuing acceptance into Australia's Special Forces.
In May 1996 Squiz was awarded the coveted "Green Beret" and began serving within the Australian Commando's. Three and half years later he found himself in the heart of the East Timor crisis, but without a weapon or uniform. Squiz went to assist the people of East Timor with the aid agency, International Rescue Committee. It was to be the start of his humanitarian career which also included missions to Albania, Sudan and Afghanistan with the International Rescue Committee. In February 2003, Mark moved across to the United Nations and was employed by the World Food Programme (WFP) as a Field Security Officer.
For 18 months he worked in the complex environment of the West Bank and Gaza Strip. Squiz was then transferred to Nepal to help provide an interface between the UN and those leading the Maoist insurgency. The conflict was somewhat tempered in April 2006 with the collapse of the Monarchy and Squiz was moved to Sri Lanka where he helped to secure food convoys to areas controlled by both the Government of Sri Lanka and the Tamil Tigers.
Squiz has now returned to Australia and now deploys on short term missions. Squiz has come here today to talk of these experiences and how they inspired him to climb Mount Everest to raise awareness of global hunger.