LUNCHEON - 29TH JANUARY 2014
Speaker: Campbell Rose, CEO Vic Track
Topic: 'Vic Track – Victoria's Rail & Tram Asset Owner'
Chairperson: Peter Payne
Campbell Rose was appointed to his current role in February 2013. As a seasoned senior executive, with experience across major events, infrastructure development and business transformation, he has been engaged to reposition VicTrack.
VicTrack is a Victorian Government agency with custodial responsibility for public transport infrastructure and land. VicTrack is a $22 billion entity (with an additional $2 billion in rolling stock assets in associated companies) and the largest landholder in Victoria after the Crown.
Cam's prior experience includes Chief Executive of the Melbourne Major Events Company, the 2006 Melbourne Commonwealth Games Bid, the 2001 Brisbane Goodwill Games, the Western Bulldogs and Stralliance Developments, a Melbourne-based development and construction company.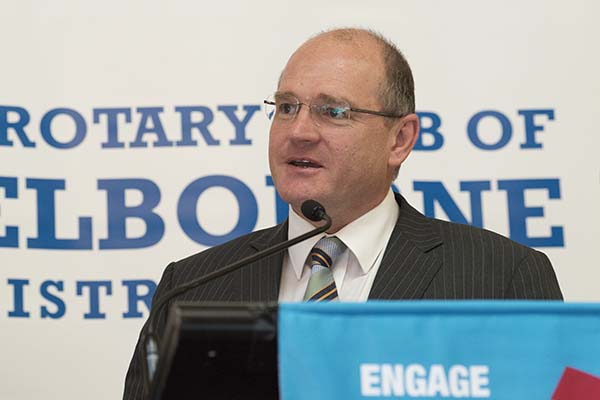 Cam has a strong track record at the interface of public and private infrastructure, including property development.
Synopsis of the presentation:
It has been 16 years since our speaker, Campbell Rose last addressed the Club. At that time David Jones was our President and Campbell was CEO of Melbourne Major Events, leading Melbourne's bid to win what turned into the hugely successful 2006 Commonwealth Games.
Now as CEO of VicTrack he has an equally important task in leading a self-funded State-owned business enterprise that provides a wide range of telecommunications, property management and project delivery services in support of Victoria's public transport system.
In recent years, VicTrack has started to exploit its telecommunications infrastructure to provide broadband and other IT services to the wider government sector whilst increasing the revenue base. In the year to June 2012, consolidated revenue was in excess of $1.6Bn against net assets of $18.6Bn.
There are some 350 staff with the majority based in the Docklands precinct of Melbourne. When Cam was appointed in early 2013, the Minister, Terry Mulder commented that the Government was keen to see VicTrack facilitate projects with the private sector to enhance station precincts and provide clear transport improvements, without drawing on taxpayers' money.
As Campbell explained, the Glen Waverley IKON project is an excellent example of this and he indicated that more were in the pipeline. Campbell explained succinctly the complex business that VicTrack is, complemented his address with 3 minute video, and was open in his answers to some probing questions.