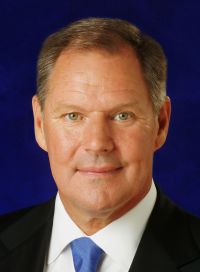 LUNCHEON - 22ND JANUARY 2014
Speaker - The Right Honourable the Lord Mayor of Melbourne, Councillor Robert Doyle
Topic 'Affirmation of Australian Citizenship'
Chairperson Chris Knight
The Right Honourable the Lord Mayor of Melbourne, Councillor Robert Doyle, and Club Honorary member will be addressing the Club and conferring upon all present the 'Affirmation of Australian Citizenship'. As Australia Day will be celebrated on the following Sunday next week's meeting will have a distinct Australia Day flavour and will be different to anything experienced in the past.
A large amount of preparation has taken place by our member Chris Knight, of Christmas Hamper fame, and he assures a great day will be had by all. We live in the very best country in the world. Let's celebrate our good fortune residing in the Most Liveable City in The World with all our friends in the presence of our very own member Melbourne's Lord Mayor Councillor Robert Doyle.
A synopsis of the luncheon:
To receive a visit from our Honorary member, the Lord Mayor of Melbourne Robert Doyle is always a special occasion.
Last Wednesday was no exception with Robert delivering an address causing all present to remain virtually motionless and transfixed on every utterance.
The celebrations commenced with Chairman Chris Knight interviewing three Rotarians, PP Phil Endersbee, VP Cheryl Lacey and maestro David Kram on what being an Australian means to them.
Phil discussed his frequent overseas sojourns, Cheryl shared her elation and privilege of adopting two beautiful young girls, Somraudee from Thailand and Ting from Hong Kong and them becoming true 'Aussie' citizens. Thirdly David Kram, born in England, educated at the Royal College of Music who chose to live in Australia because of the wonderful opportunities available to all citizens, the egalitarianism and the opportunity to be free.
After these insightful interviews our Lord Mayor spoke with passion, dignity, fervor and emotion on the magnificence of Wonderful Melbourne and why he was so proud to be this city's No. 1 citizen. There was total silence, not a plate rattled, a spoon dropped or even a throat clearing cough for the entire address.
At the conclusion all present were invited to stand and join with Robert in repeating the following words:
Australian Citizenship - Affirmation by an Australian citizen
As an Australian citizen,
I affirm my loyalty to Australia and its people,
Whose democratic beliefs I share,
Whose rights and liberties I respect,
And whose laws I uphold and obey.