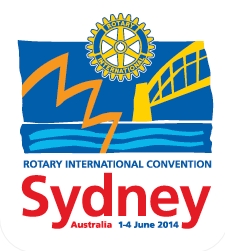 SPECIAL ANNOUNCEMENT - ON-TO-CONVENTION - RI INTERNATIONAL CONVENTION - SYDNEY - 2014
This wiill be a very special international Rotary event and to recognise it's significance in the Rotary calendar, our Club is planning an exciting On-To-Convention experience which includes a terrific Hunter Valley Wine Tour.
To find out more about the preliminary arrangements, please click here.
Once you have read this material, please consider the following actions:
Contact Cheryl Lacey (mobile: 0419-518-811) to discuss your participation;
View the RI International Convention website by clicking here;
View the RI Convention Calendar of Events by clicking here;
Register online by clicking here;
This is a fantastic opportunity to participate in a global Rotary International event being held on our own shores (2003 was the last time the RI Convention was held in Brisbane and in 1993 our Club was the Host Organiser of it in Melbourne..!!).