LUNCHEON - 13TH NOVEMBER 2013
Speaker Jessica Butcher, Rotary Peace Scholar to Duke University, USA
Topic 'Rotary Peace Fellows: Bringing Peace Home'
Chairperson Bob Fels
Jessica Butcher was selected to be a Rotary World Peace Fellow at the University of North Carolina for 2011 - 2013 having been nominated by the Rotary Club of Melbourne. Her initial contact with the Club was in 2009 when she received our Young Achievers Award.
Her area of expertise is multicultural interfaith dialogue especially between Muslim and Christian communities and she gained firsthand experience in Indonesia. Jessica established an annual program – Uniting through Faith – involved some 4000 participants that led to ongoing relationships at several levels between both religious groups. As an outcome, she also established 'Schoolies with a Cause' working with indigenous communities in Cape York – a much better alternative to 'Schoolies on the Gold Coast'.
Jessica obtained a Masters of Education at University of North Carolina focusing on methodology to promote understanding of stigmatized religious groups within society. While at UNC, she also obtained a Graduate Certificate of Global Transmigration focusing on refugees and peace building in the diasporas plus a Graduate Certificate in International Development Policy at neighbouring Duke University.
Just to keep herself busy, she was elected Class Representative on the Faculty Peace Studies Committee. She certainly maximized the opportunities offered by her Rotary World Peace Fellowship.
Synopsis of the Presentation: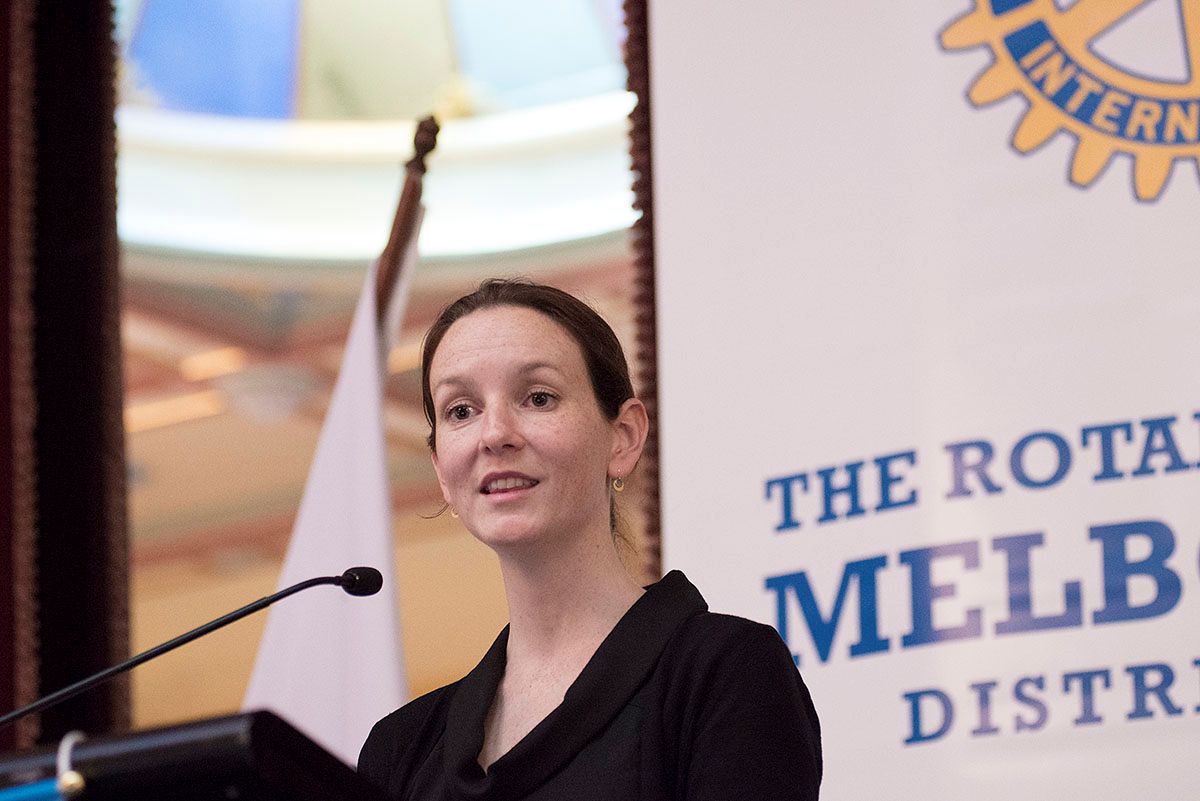 Jessica Butcher was the guest speaker at lunch on the 13th November. She is a person the club can be proud to have mentored and supported given the quality of her address.
Her initial contact with us was in 2009 when she received our Young Achievers Award. Since then we have sponsored her successful application as a Rotary World Peace Fellow and she has recently returned from her studies at the University of North Carolina and Duke University.
Her topic was a penetrating yet empathetic insight into the difficulties imposed by culture and geography on those who dare to undertake masters' studies in peace and conflict resolution in a "peaceful" but foreign Western country when their previous life experience is one of conflict and oppression.
Her examples from Sudan, Northern Ireland and Palestine kept her audience spellbound; you could have heard a pin drop.