LUNCHEON - 23RD OCTOBER 2013
Speaker Hans Schroeder, President Australian Bach Society
Topic 'Johann Sebastian Bach in Melbourne – A Personal Reflection'
Chairperson David Kram
Born and raised in Northern Germany Hans studied chemistry in Berlin before joining the chemical-pharmaceutical company E. Merck Darmstadt in various positions in Scandinavia and Germany. Among others, he held senior positions developing two major business segments worldwide. In 1990, Hans was appointed CEO of Merck Pty. Ltd. in Melbourne for a four-year period. Falling in love with this city Hans left Merck and established Euronet Services Pty. Ltd. as a consultancy.
Now in his 'real retirement' Hans in 2004 became involved in the historic German Lutheran Trinity Church East Melbourne leading it through a transformation process. In late 2011 Hans and a small team established the Australian Bach Society, embarking on an exciting journey of discoveries from which he will share some interesting insights.
Synopsis Of The Presentation: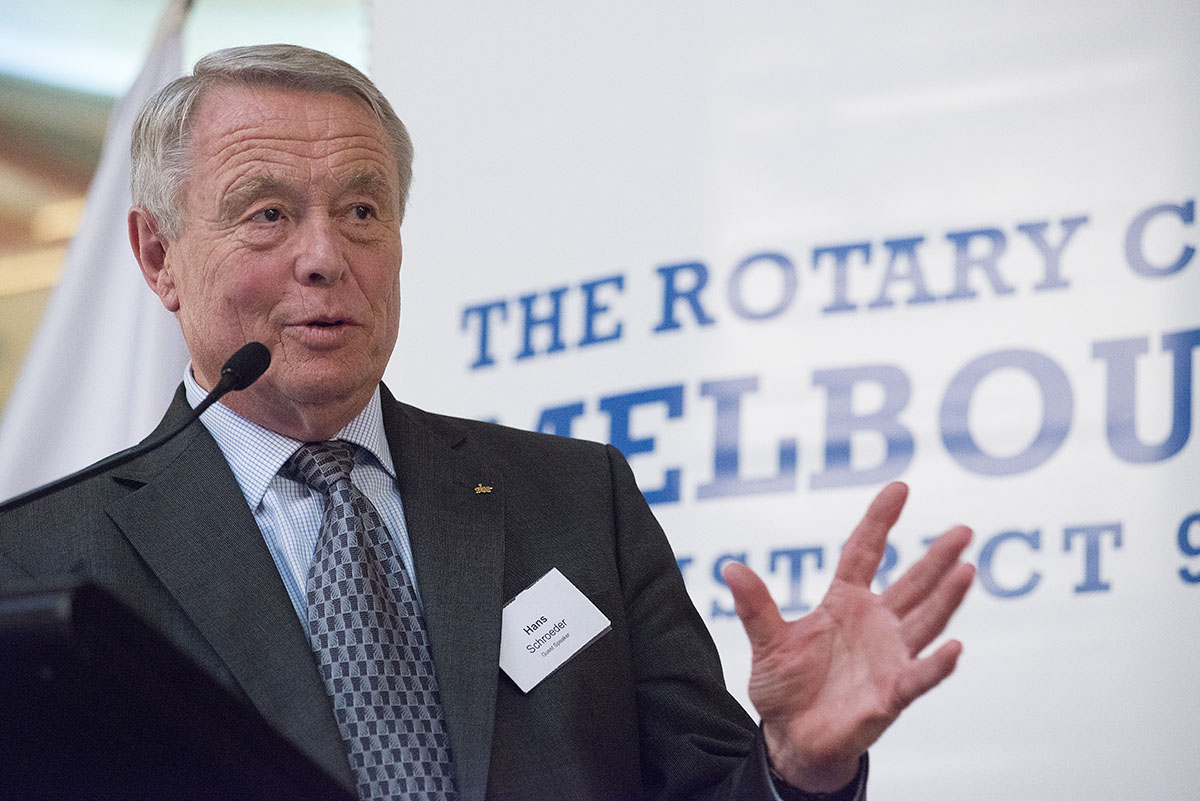 Last week's guest speaker, Hans Schroeder came to Australia in 1990 as CEO of the oldest pharmaceutical company in the world – Merck. Luckily for Australia and for music, he stayed. Through his association with the German Trinity Lutheran Church in East Melbourne Hans became acquainted with the music of Johann Sebastian Bach (1685-1750) and is now President of the Australian Bach Society (2012-). His three main tasks were (a) to organise a visit to Melbourne of the renowned St Thomas Church Choir from Leipzig – Bach was for many years Music Director there (b) to initiate an annual Bach Festival in Melbourne and (c) to encourage cultural links and exchanges between Melbourne and Leipzig.
Hans spoke informatively and enthusiastically about his experiences, discovering Bach's music later in life: the long, distinguished history of the German community in Victoria, with a concert performed three days after the first arrivals in 1849. Hans also spoke enthusiastically of the history of Bach performances in Melbourne, including some interesting anecdotes about the 1888 Great Exhibition, the current Bach practice in Melbourne and cultural exchange – including the eminent organist Anthony Halliday being the first Australian to play the original Bach organ in Leipzig.
In response to many interesting questions, Hans Schroeder shared his dream of ensuring present and future generations – commencing with our children – will have the opportunity to immerse themselves in Bach's musical wonders.