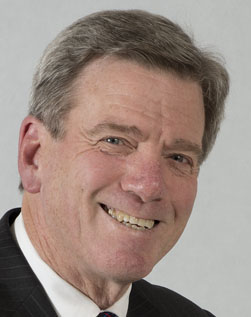 Valedictory Address By 2013/2014 President Keith McNeil
I have been immensely honoured to be President of the Rotary Club of Melbourne in 2013/14.
Following Club Vision Day two years ago, our strategic and annual plans were aligned within the same three strategic priorities of Rotary International and District 9800, namely:
To grow and strengthen our Club;
To focus and increase humanitarian service; and
To enhance public image and awareness.
Today, I want to summarise the past year within the context of these three strategic priorities while also referencing the theme from Rotary International President Ron Burton for this year which was to "Engage Rotary Change Lives".

In this year over $400,000 of humanitarian service projects were managed through our Club including $30,000 paid to our principal charity, the Rotary Foundation. Some specific highlights were assistance for disadvantaged, indigenous and refugee children, disaster relief for the Philippines, a contribution to towards a Global Scholarship Grant to enable a doctor from Myanmar to undertake a Master of Public Health at University of Melbourne, funding to the DIK store for shipping of more desks, chairs, hospital beds and other equipment to Timor Leste, support to the 20th Man Fund to assist their financing of books for needy students through their "Back to School program", assistance to the Lighthouse Foundation and Smith Family, participation in the Looc Clean Water Programme, The Mother Tongue education programme in East Timor and a loan to Village Infrastructure Agencies for solar-powered grain mills on Tanna Island in Vanuatu.

We can confidently say that without the efforts of members of this Club, our community both local and internationally would be much the poorer. We can be proud of achievements with our second strategic priority. We did change many lives.
What have we done with the first and third strategic priorities, growing and strengthening our Club and improving public image and awareness?
Thanks to the efforts of numerous skilled people in the Club, risk, governance, our finances, our investments, our trusts and review of our constitution and by-laws have all been managed exceptionally well;
We have had an excellent speaker programme this year. The Angus Mitchell Oration from Professor Peter Shergold in February was attended by 150 members and friends of Rotary. Our Seniors and Vocational Service Awards continue to recognise remarkable people from our community;
We made improvements to the way we communicate Board decisions to members;
Consistent with the theme of engagement, we have worked strenuously to engage corporate members into Rotary through exploring projects in homelessness, indigenous communities and water in poorer countries. The Club is very conscious that we have one opportunity to make corporate membership a success. From the progress that I have seen so far, if any Club is going to make corporate membership a success, this is the Club; and
We commenced this year with 233 ordinary members and now have 238. However, we have inducted 15 less than we had budgeted for.

Two recent meetings of our Club demonstrate why we must step up our efforts with the first and third of our strategic priorities if we wish to continue with our successes with humanitarian service and to meet our aspirations that were developed at our Vision Day.
In April, we failed to have a quorum at the lunch meeting within which we planned a Special General Meeting to approve our revised Constitution. I cannot recall this happening before in this Club and to me it was analogous to a company making its first recorded loss. That company would not last long if it ignored the market implications of its first recorded loss. No Club, no Board, no President can ignore the signal that we got from our "market" in April and otherwise conclude that all is well.
Contrast that day with our highly successful Reporting Day last week, from which your feedback was universally enthusiastic. Three clear messages come through from that meeting. First, modern, innovative, and informative communication of the type that came from our Vice Presidents is exactly what the constituency that we are trying to attract as members expects of us.
Second, we saw last week that our members are proud to bring prospects to meetings of that standard because they are inspiring and enjoyable and help to win over prospects. And third, we can be all of honouring our past, celebrating our current successes, and changing and adapting to build and secure our future.
As Professor Peter Shergold reminded us in his oration, the world in which Angus Mitchell worked as a highly effective Rotarian is vastly different from the one in which we now live. We must continually evaluate the effectiveness and relevance of what we present to the people that we need to join our Club so we can uphold the legacy that has been passed on to us.
I must thank:
Vice Presidents, Cheryl Lacey and Hugh Bucknall for their hard work and support, and for their excellent report last week and for willingly stepping up to particular assignments during the year;
Other Board members and office bearers for diligently carrying out their responsibilities, especially the tireless contribution of our Honorary Secretary, Wayne Talbot, and Honorary Treasurer David Carruther's attention to the finances of the Club;
Chairs of Committees and leaders of projects;
The Sergeant-At –Arms and Bulletin Editor, Peter McCall, whose undiminished enthusiasm for this Club and his humour contributes substantially to its outreach to members;
Our webmaster Phil Bowley;
Directory Editor Chris Knight;
The luncheon and reception teams for the smooth running of our weekly luncheon meetings;
The Hotel Windsor staff for their excellent service and fine food;
Our photographer John Tozer, supported by James Pullar and Bruce Davidson;
And finally, the advertisers in the Directory:

Advantage International - Stephen Lake
Benetas - Sandra Hills
CWI International - Chris Wang
Dakin Mayers & Associates - Peter Dakin and Philip Mayers
Kevin Sheehan Property
The Board Advisory Group- Robert Barnes
The Hotel Windsor - David Perry
Yering Park Vineyard - Trevor Hill
My wife Dawn has been an immense support to me in the past year as she always has been. Her passion for the fellowship of Rotary and her desire to see less fortunate souls better cared for, have helped me to navigate through many issues in the past year.
Particular highlights for Dawn and me this past year have been:
The opportunity to attend the Rotary International Convention in Sydney and the District Conference on the Gold Coast, both of which demonstrated the unique way that Rotary changes the lives of so many;
The Group Christmas dinners which brought us into renewed contact with so many of the "living-treasures" of this Club; and
The opportunity to represent this Club at the 90th Anniversary of the Rotary Club of Launceston and the 50th Anniversary of the Rotary Club of Hawthorn, both chartered by this Club.
Finally, thanks to our Office Manager, Jo Mavros. Jo, contributes so much to keeping the President and other office bearers on top of their responsibilities in the most cheerful and competent manner. Jo, I would like you to come forward to accept this token of our appreciation.
One life that changed remarkably in 2013/14 was my own due to the tremendous faith that you bestowed and the tremendous support that you have then given me to ensure that it was a fruitful and enjoyable year. I hope as President of this great Club, I helped make your Rotary experience a positive and enjoyable one.
Keith McNeil
President 2013/2014