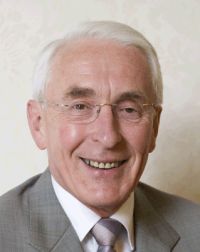 Community Service Vice President's Report 2012/2013
Vice President Community Service – Peter Washusen
A powerpoint version of Peter's presentation can be accessed by clicking on the Related File below.
President Clive, Award Winners, Rotarians, and Guests
Firstly, before I get into any detail, I would like to express my thanks, and those of the Board, to the Committee and Team Chairs, Committee members and, in particular, those individual members who have been the champions and drivers of the many projects and activities undertaken by the RCM in the past year.
No matter what funds are raised, without the engagement of those who have contributed their time and effort, delivery of the significant benefit to the community, both locally and internationally, would not be possible. Thank you all.
Let me now deal with funding.
At the start of this year budgeted spending for the Community Services portfolio was $243,000. Against this budget, as at end of May, a total of $278,000 has been expended.
Community Service $ 45,000
International $134,000
New Generations $ 82,000
Vocational Service $ 17,000
We were able to find funds in excess of budget for some worthy projects.
Funding of this amount was from:
our own sources being

the RCM Community Foundation,
the Stolfa Fund and
Club and Committee fund raising,
external support coming from the likes of:

The Rotary Foundation,
The Baker Foundation,
The Peter Mackay Bequest,
the City of Melbourne,
the Traffic Accident Commission and
private donors.
Let's now have a look at some of the achievements for the year.
Community Services – Director Hugh Bucknall
The Community Services portfolio in 2012-13 has focused on some key themes;
Homelessness,
Isolation of the Aged and
Skin Cancer Research.
An emerging new theme is one of addressing issues of Refugees in Melbourne.
Homelessness:
For several years, the RCM has conducted programs that provide practical support for homeless people that create sustainable change and make a difference in the lives of the disadvantaged. This includes:
a combination of Second Bite food collection from Prahran and Victoria markets that provides healthier and accessible sustenance
continued support for low cost and safe housing options provided through Home Ground Services
extension of the successful Big Issue program to include a subscription service that employs women in a safe and sustainable working environment, and
training programs to assist formerly homeless people participate productively in a modern society free of dependency.
We have worked with several partners to provide scale, leverage and increased impact, including the Brotherhood of St Laurence, Home Ground Services, The Big Issue and Second Bite.
Isolation of the Aged:
Several programs have assisted isolated elderly people reconnect with the community in ways that not only address isolation but also provide skills to stay connected with a contemporary society. Projects include:
delivery of library books to house bound individuals
a special luncheon held at Max's Restaurant in Redhill
support for the Alzheimer's Society education programming
training programs to help elderly people connect with the digital age, and
a large scale project to create new avenues for elderly people to connect with a wider community from a base of isolation.
Our partners in these projects include the City of Melbourne, Benetas, Claremont Homes/CaSPA Care, Brotherhood of St Laurence and the Alzheimer's Society.
The RCM Seniors Award for 2013 was awarded to Thomas Font for his exemplary work helping older people address social isolation.
Skin Cancer Research:
The Rotary Dermatology Research Centre was established in 2012 with funding grants arranged by the RCM. The research is focused in part on the special needs of disadvantaged groups, homeless, elderly, youth and those with a vocational risk of skin damage.
Refugees:
Practical support has been provided by:
mentoring women from refugee communities in establishing businesses
driver training to enable members of the Somali Ogaden community to become mobile and access employment, and
starter packs for recently arrived refugees.
Our partners include the Brotherhood of St Laurence, and the Women's Housing Cooperative.
International Service – Director Jan Moffatt
The four key areas of International Activity are International Programs, Timor Leste, The Rotary Foundation and International Fellowship
International Programs Committee:
The major project funded during the year was for Micro Energy in Vanuatu. The Club contributed a total of $21,000 towards funding solar powered LED lamps to replace kerosene as a source of power. The aim is to provide a healthier, safer and more economical source of lighting for villagers. Funding was directed through Village Infrastructure Angels which is an organisation founded by Australians that is seeking to improve the lifestyle and safety of villagers in Vanuatu. $11,000 of this amount was derived from the repayment of an earlier loan plus interest. The villagers are provided with loans to buy the lamps on the basis that funds previously spent on kerosene are used to repay the loan. We expect that the principal and interest will be paid back at the end the project in three years' time. This project has already seen a direct benefit to over 500 families or about 2,500 people.
Other projects funded included Rotarians Against Malaria Adopt a Village Program in PNG, International Disaster Relief, Interplast, ROMAC (Rotary Oceania Medical Aid for Children) and a Vietnam Dental project.
East Timor Committee:
This year has been another productive year for this Committee.
The major Maternal and Infant Health project in Bacau East Timor continues in its second year with pleasing results. The Committee has also committed to support the Rural Schools program in East Timor where teacher training and materials are provided for a number of schools over a year. This is in conjunction with Mana Kirsty Swords initiative for the promotion of local languages in the Districts. Our joint project with Doncaster and Lilydale - East Timor Roofing continues successfully with 33 local employees and solid sales to East Timor contractors and NGO's.
DIK Store continues its great work with collections from St Vincent's Hospital, Caulfield Hospital, and Austin Health and containers despatched not only to Timor Leste, but also to South Sudan, Somalia and Chile; a real global enterprise in operation. Thanks to all "hands on" volunteers who assisted with this invaluable work.
The Rotary Foundation Committee:
The highlights for 2012/2013 include our Ambassadorial Scholar Katie Stjerholm. Whilst the Scholarship is only a one year Scholarship, Katie was able to stay on a grant from the University of Melbourne to complete a two year degree "Executive Master of Arts". Katie addressed the Club on 6 March.
The Club also maintained its remarkable record for identifying Rotary Post Graduate Scholars and Rotary Peace Fellows. Our nominee for the District Post Graduate Scholarship, Lien Trinh, won through. She is an optometrist who will do a Masters in Health policy at London School of Hygiene and Tropical Medicine. Suzie van Meegan who spoke so well to us last week was a Rotary World Peace Fellow to Chulalongkorn University and Stephanie Woollard has been selected for the 2 year Master of Peace & Conflict Research at Uppsala University in Sweden.
Every Rotarian Every Year. The Club is continuing to add numbers to our Club membership of this Group that is committed to contributing to the Rotary Foundation every year.
The Committee is currently in the exploratory stage with Chile on a program designed to contribute to educational equality improvement in schools established by "Corporation Educacional Emprender". The Corporation has four schools and was established on the philosophy that providing equal opportunity in education is a moral imperative and a unique opportunity to contribute to development.
International Fellowship Committee
A very successful year with our sister club The Rotary Club of Osaka.
Negotiations with our sister club have resulted in that club providing USD24,000 to assist with the funding of the Looc Community Potable Water System in the Philippines. The funds are made up from direct Club Funds, District 2660 and TRF, and represent approximately 25% of the total funding cost of the project.
A very successful visit to Osaka was undertaken by President Clive leading a group of our members to celebrate the 90th Anniversary of The Rotary Club of Osaka on 16 November. Great hospitality was received.
As part of Future Leaders Exchange with Osaka, in March 2013 The RCM hosted two students from Soai Girls High School – Ran Itooka and Yukiko Machida.
For the return exchange the Club has again collaborated with the City of Melbourne who suggested we send two young professionals from Melbourne's Bio‑Tech industry. The City of Melbourne has agreed to pay airfares and some on ground expenses. The return exchange will take place in August 2013.
New Generations – Director Maryla Juchnowski
Welfare of the Young Committee:
Working with our partner the Asylum Seeker Resource Centre we have provided back to school packs and a visit to the Zoo for children of refugees.
Funding was provided to support research into the effectiveness of AMPLE (Adolescent Mothers Project - Let's Explore your baby as a person) a project of The Royal Women's Hospital that seeks to understand and improve the emotional relationship between adolescent mothers and their babies and understand the effects on child development.
Funding was also provided to Typo Station, an establishment in north east Victoria that assists troubled youth, to refurbish its kitchen area. This followed a visit to Typo by the "On to Conference" group of RCM on their way to District Conference in Albury.
Key features of the WOY Committee's work on behalf of RCM are the Rotary and District programs that provide for youth development such as RYLA (Rotary Youth Leadership Award), RYPEN (Rotary Youth Program of Enrichment) and MUNA (Model United Nations Assembly). These are all well-established projects that occur each year and RCM continues to receive glowing reports back from participants. A highlight this year was our MUNA candidate Annie Willis, who was so successful at District MUNA she was selected to attend National MUNA in Canberra.
Donydji Community Development Project
This has been one of the longest running RCM projects having commenced in 2003. It is currently proposed that 2013/14 will be the last year of direct RCM involvement with any ongoing involvement being through "Friends of Donydji". Since the project's inception, in excess of $1.5M has been expended plus an incalculable amount of voluntary input and donations in kind.
While there have been many frustrations along the way this project has been most successful. Significant improvements have been achieved in community facilities, health, education and opportunities for the youth of Donydji.
Youth Exchange
Our inbound Exchange Student Amelie Hinrichs has almost completed her year with us and is due to return home to Germany on 29 June. We express our thanks to St Catherine's School, host parents and councillor.
The next challenge for the committee will be to identify and sponsor an outbound student.
Indigenous Programs
Partnerships have been established that have resulted in:
Distribution of five pallet loads of books by the Aboriginal Literacy Foundation that had been shipped from the DIK store.
Building relationships with Ngambala Community, Red Dirt and three other Rotary clubs to work on the establishment of a project to improve nutrition of indigenous children.
Cooperation with Melbourne University to enable indigenous involvement in their Mind Body and Music Symposium.
Vocational Service – Director John Shaw
Vocational Services Committee:
The Committee continued its very successful awards which showcased excellent candidates. The Vocational Service Award was presented to Dr Mukesh Haikerwal and the Young Achiever Awards were presented to Tiffany Hunter, Sev Parseghian and Sam Bramham by Nobel Laureate Prof Peter Doherty.
Rotary Park:
The Committee worked hard to consolidate and further develop our relationships with the Melbourne City Council / Heritage Council making strong representations to ensure the ongoing recognition of the significance of Rotary Par and our access to the Park.
Arts Committee:
The Committee delivered great success with the four year "Child's Play" program and follow-on funding has now been secured from the Baker Foundation. "Child's Play" is delivered to musically talented children in the Sudanese community.
The Arts Committee continued to encourage the awareness of the Arts among Rotarians and guests with a visit to the Winter Masters exhibition at the National Gallery of Victoria, a Collingwood Gallery Walk and an Architecture Tour in the Windsor Hotel precinct.
Following a triennial review RCM extended its participation in Acclaim Awards Limited with RC of Cheltenham for a further three years. Acclaim continues to identify and support young Australian talent.
0808 Committee:
The 0808 Committee conducted a very successful series of events in August 2012 including the Spirit of Australia Monash Ceremony and Lecture in the Parliament of Victoria Queens Hall and the Legislative Assembly. On August 8 a dawn service was held at the Shrine of Remembrance and at lunch Professor Jeffrey Rosenfeld AM was invested as the 2012 Monash Medallist. He spoke on challenges in his field, current and future, of aspiring to and achieving the values of the Monash Medal – Leadership, Integrity and Service.
Conclusion
As I have been preparing this report there is one thing, apart from the contribution of members, that has stood out and that was diversity.
I see diversity in RCM in a number of ways:
Size of project – large and small but all with significant benefits and impact
Location – domestic and international

Around Melbourne
Arnhem Land
Timor Leste
Vietnam
Vanuatu
Goods from DIK to South Sudan, Somalia and Chile
RCM projects and partnering with others in external

Brotherhood of St Laurance
Homeground Services
Acclaim Awards Limited
Joint projects with other Rotary Clubs including Osaka
Funded projects and pure volunteering of time

DIK pick ups
Second Bite
White Elephant Sale
RCM internal fundraising and external fundraising
Projects or activities that are run by an individual or a team or committee
RCM internal and external activities
What I take out of this is that:
big or small, we can and do make a difference
local or overseas, we can and do make a difference
working in partnership with others can enhance our reach and effectiveness
opportunities exist for every member to be engaged in projects or activities within the RCM.
Again - Thanks to all who have contributed their time, energy, enthusiasm and expertise throughout the past year.
Peter Washusen
Vice President Community Service 2012/2013