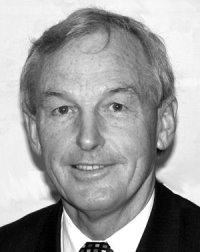 Club Services Vice President's Report 2012/2013
Vice President Club Services – Peter Bearsley
Rotarians and Guests – thank you for being here!
I was told last week that the VPs' Reports Day is the most boring day in the club's calendar – and that the Club Services part is the most boring of the most boring day. That sounds like a challenge! I quite like a challenge – and I challenge you to be bored in the next 10 minutes!
Let me make it easy for you by starting with Audit, Risk and Governance. Would Tony Greenwood please stand. Tony brought a forensic lawyer's tenacity to scrutinizing the Trust Deeds for our three trusts (the Rotary Club of Melbourne Community Foundation and its associated Extension Fund, and the Stolfa Charitable trust) and to the Tax Office's Rulings and Guidelines, the new Australian Charities and Not for Profits Commission requirements and other relevant legislation, and confronted us with how we needed to lift our game.
Over many months, this committee – including former auditor and Club Secretary Garry Fowler, pragmatic Treasurer David Carruthers, myself an opinionated ex-Trustee company operative – argued vigorously – like four men looking at an elephant from opposite ends and sides, each utterly convinced of the rightness of his view; until eventually – thanks to the ever-patient guidance of the Chair, Reg Smith, we realized the truth of the Ninth Beatitude : "Blessed are you who disagree with me; from you I might learn something."
As a result, members of the incoming Board of the Club will be much better informed about their duties and obligations and we now have a Risk Register that identifies risks to the Club that have previously flown under the radar and we have management plans in place to deal with them.
Among other things, Tony and Garry have discovered that over the last five years we have failed to distribute about $45,000 of income earned by the Stolfa Trust, which is for needy people. Accordingly, David as Treasurer is budgeting to remedy some of that in the coming year!
Reg as Director for Corporate Issues and Fundraising, also oversaw the Fundraising and Promoting Rotary team led by Greg Romanes. (Greg and team please stand). The biggest event here was the White Elephant Sale organised by Maryla Juchnowski and a willing band of helpers (please stand). Arguably, the $7,000 raised didn't do justice to the huge effort put in by this team; but as many of us agreed after the event, even if it hadn't raised any money, the fun and pleasure of the fellowship enjoyed by all who helped on the day would have made it all worthwhile. So, very well done, Maryla and team and we look forward to this coming year's event.
I also want to acknowledge the great effort of Chris Knight in single-handedly organizing and delivering the Christmas hampers, raising some $1,700. These were astonishingly good value, as my wife Catherine will testify.
And to all those others who raised money in various ways – through wine sales, wine raffles, footy tipping, sale of nuts etc – well done and thank you.
John Tozer has been Director for Meetings and Fun as well as Captain of Groups and master photographer – a challenging set of roles. Some of our Groups are struggling - Toorak1 and Toorak 3 have combined and North Western Group has been folded into Central 2 Group. On the other hand, we have four new AFL Groups – Carlton, Hawthorn, Essendon and Melbourne – as well as a Golf Fanatics Group with 30 members and a Photography Group with 15 members.
Robert Fisher organized interclub visits to 6 other Rotary Clubs this year. 18 of our members participated (on average twice each).
On-to-Conference this year was organized with great flair by Hugh Bucknall, with assistance from Peter McCall. Was it the best ever? Those who participated – what did you think?
Whenever I come early to lunch here, I am impressed by Murray Campbell's small army of lunch organisers who move about with great efficiency setting up the table banners and other paraphernalia – and packing it all away so promptly afterwards. Great job, Murray and team – thank you from all of us.
And then there's the Reception Team led by Nina Hunter and Alan Trumble and co – they are our Directors of First Impressions and don't they do a great job, week after week.
This year Cheryl Lacey and her team have produced some great speakers for our luncheons – Steve Bracks, Peter Doherty, Harold Mitchell, Robert Doyle, Don Watson, David Wittner among many others.
Now I really must say something about "Grace". Some of our members feel we should do away with rituals as they make us seem fuddy-duddy to potential new members. Some are uncomfortable with an invocation of God as part of our weekly luncheon. Others hold the tradition very dear and are deeply saddened, even distressed, by what seems to be relentless pressure to drive religion out of the public domain.
The Executive Committee and the Board agonized over this issue before coming up with the following new Guidelines that I will read to you:
Guidelines for Offering
Reflection and Thanks
1. The Club cherishes its tradition of commencing luncheon meetings with a thoughtful and inspiring Reflection and Thanks for the bounty we enjoy and our call to serve others.
2. Rotary is a non-religious organization and, to be fair to all concerned, our rituals should not be explicitly religious. That is, they should not involve prayers or invocations of a higher power.
3. Because the word "Grace" seems irrevocably associated with religion, at least for many people, we will call this ritual: "A Reflection and Thanks"
4. It is imperative that the Reflection and Thanks be brief – a moment, pithy, taking no more than a minute. A Reflection and Thanksgiving, not a mini-sermon.
5. The aim is to inspire those present.
6. It is recommended that you conclude with the traditional Rotary Thanks (or similar): "For good food, good fellowship and the opportunity to serve, we give thanks."
7. The club values the care, thoughtfulness and generosity of you who volunteer to create and offer the Reflection and Thanks at our weekly luncheons. Thank you for your inspiration!
- and we really would like more members to put their hands up to join the panel.
During the year, Kevin Sheehan took over from Nick Pelham as Director of Communications. So much goes on under this portfolio – the Club Directory led by Chris Knight with many key helpers; the weekly Bulletin created by Peter McCall and published with the assistance of Bernie McIntosh and others; the Archives led by Bruce Davidson; the website and eCommunication team led by Phil Bowley and Stephen Lake; the Club Information team led by George Koczkar.
These are the people who keep our wheels turning and information flowing.
And now under Kevin's leadership, Tina Rankovic has applied her professional skills and produced an integrated Marketing and Communications Plan for implementation over the next 2-3 years. This will markedly improve the effectiveneness of our Communications, both internally and externally.
Finally, let's talk about membership. Would Michael Selth and the members of all four Membership Committees please stand. We have Membership development led by Ian Evans, Membership Involvement led by Sue McDonald, Membership Review by Austen Burleigh, and not least, Corporate Membership led by Peter Rogers, which has been the outstanding success story this year.
Monash University, Telstra, GHD, NAB, PWC, ScalzoFoods have all committed to joining as corporate members and others are in the pipeline. A remarkable effort by Peter Rogers and his team.
In addition to the 7 corporate reps already inducted, we have inducted a further 15 individual members this year (up from 12 last year).
However, we do have a serious problem as regards members' participation in the life of the Club. We had 7 resignations with effect from the end of June last year when the new year's subs became payable and a further 17 over the next 9 months. Only 2 of those 24 members had attended or participated more than twice in the whole of the previous year.
At the end of March we had 16 members who had not attended or participated at all this financial year. 13 of them had been members for more than 3 years.
So far this year, only 90 members (fewer than 40%) have met the Club's participation requirements of 25 activities per year (2 per month). Incidentally, we might not even know about this if John Mitchell didn't load all the data each week. – thanks, John.
Before I close, I should mention two committees that report to the Treasurer – namely the Investments Committee which continues to outperform the market in its investment of the Club's funds; and the Community Foundation Committee which seeks to promote and grow our Club's Community Foundation and its Extension Fund. We now have about $1.3 million in those two funds and their investment earnings provide the core funding for the Club's charitable projects each year. You will recall the excellent address from David Wittner recently spelling out why we should all consider including the Community Foundation Extension Fund in our wills.
And I haven't mentioned Jo who makes everything happen so smoothly – how lucky are we to have such a competent, cooperative, committed, generous and pleasant Office Manager.
So, in summary, President Clive, it has been a year of substantial achievement as regards new members, particularly Corporate members, the beginnings of an integrated Communications and Marketing strategy and structure, new special interest groups, and Governance; and we have some significant challenges around membership and participation that we'll be addressing in the coming months.
Thank you for the privilege of serving the Club as VP this year.
Are we bored yet?
Peter Bearsley
Vice President
Club Services 2012/2013
19th June 2013