Club Management & Fellowship Vice President's Report 2011/2012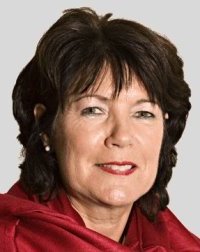 Vice President Club Management & Fellowship – Mary Barry
1.0 VP Role
My role over the past 12 months on the Board was Vice President Club Management and Services. This portfolio included areas such as Club Membership, Club Meetings, Corporate Issues, Communications and Fellowship.
All of these areas were overseen by Board Directors and Committee Chairs who demonstrated enthusiasm and commitment to the ongoing work and success of our Club.
I will now highlight some of the key achievements from these portfolios commencing with:
2.0 Club Membership –Director Bernie McIntosh
Membership continues to be a major challenge not just for RCM for all Rotary Clubs in our District and world-wide.
We commenced the year with 269 members. While the club lost a number of members over the past 10 months, we also inducted 16 new members, nine of whom are female, during the same period. Membership at 30 April comprised approximately 17% female members – which is still a bit short of our target but progress is being made. However, the final membership number for this year will not be known until 30 June 2012.
At the May board meeting there was time put aside on the agenda to focus on membership issues. There was quite a robust and substantial discussion on the challenges facing the club in the future with the Membership Development Committee Chair, Michael Selth taking away some ideas and strategies to put to his committee.
While recruiting new members is always important, retaining members is equally as important. To assist in retaining members the Membership Involvement Committee chaired by Roger Hersey, introduced a monthly "new members table at luncheon meetings", and held a successful new member function at Studley Park earlier in the year.
Membership is certainly an area of growing concern for all Rotary Clubs and Districts worldwide. However, I believe at the RCM we are certainly cognisant of the challenges ahead and are implementing new strategies to try to address this issue. Some of these include a pilot program on the introduction of Corporate Members, sponsoring a Rotary E Club and looking at member engagement rather than attendance as a measure of success for the club.
3.0 Club Meetings –Director Bev Brock
Club meetings are a very important part of the RCM. Week after week our President and his team of assistants, greet us all with a big smile and a handshake as we show up for lunch.
The overall luncheon set up runs like oiled clockwork under the deft hands of Murray Campbell, whilst Alan Trumble has a dedicated team on his reception committee ticking and flicking us as we arrive. Where possible, new members to the Club are included in this committee to give them an opportunity to become familiar with the membership and how the club operates at our regular luncheon meetings.
And of course we all owe a debt of thanks to the amazing efforts of Jo Mavros, who keeps everyone on track. Week after week Jo comes to the Windsor and takes our money with the biggest smile - ensuring all goes well on the day and that we all pay our way. No one ever escapes!
And of course, finally there is the Speakers Chair, which is no doubt one of the most challenging roles to fill within any club structure. Clifton Warren has done a great job balancing a selection of Business, Philosophical, Sporting and Philanthropic speakers, some of whom are seeking the support of Rotary in general or of our club specifically. Clifton is grateful for the assistance and wise counsel of Murray Campbell, Peter Dakin and Peter McCall when choosing good speakers.
4.0 Corporate Issues – Director Peter Marfleet
4.1 Corporate Governance
Risk Management took centre stage in the area of Corporate Governance this year with the Board forming a Risk Management Sub Committee to support the Chair of the Governance Committee, Arnold Mayfield, to conduct a review of the current risk management process and register.
Arnold and his committee in conjunction with Club committee Chairs identified the individual risks of all committees, reporting their findings to the Board.
With this updated information the Board Sub Committee was able to revise the Risk Register and further enhance it with the development of an overall Risk Management Framework, which was approved and adopted by the Board at its April meeting.
As a result the number of corporate risks has been condensed to five under the categories of Reputation, Governance, Compliance, Safety and Membership. In today's litigious society it is most important that the RCM can confidently go about its work with the knowledge that all known risks to the Club have been identified and mitigated to the best of our ability. Ensuring RCM has a robust risk management framework will assist in ensuring a strong future for the Club and its activities.
4.2 The Public Issues Committee Chaired by Colin Neave met on three occasions throughout the year. The long-standing topics discussed revolved around water and energy, indigenous education, food security and health issues.
More recent and topical issues focusing on the political process and the media, press freedom, carbon pricing and aged care were also rigorously discussed and debated. The discussions were so robust that appropriate speakers on these issues are now being sought to further enlighten Club members on the challenges some of these issues pose to every day life.
4.3 The Fundraising Committee under the Chairmanship of Greg Romanes was given a new strategic direction to establish within the Club, the capacity to formally approach philanthropic organisations to partner the RCM in larger projects. Progress is being made in identifying suitable organisations and the challenge is now with the Club to develop projects suitable for the Club's involvement.
The highlight this year was Peter Bearsley's Berlin Marathons Run for the Maternal and Infant Mortality Project in East Timor, raising a staggering $37,000. Well done Peter.
The club also commenced raising $70,000 for the Rotary Dermatology Research Centre a project now well underway.
The annual Melbourne Cup and the AFL Grand Final luncheons (despite the noisy and raucous Collingwood table trying to take over), were well supported together with the Christmas wine and nut sales.
4.4 The Acclaim Awards, which is a joint Rotary Club of Melbourne and Cheltenham project, continues to make significant progress with the sponsorship of the Italian Opera Awards Master Classes in October 2011. This was possible with the generous support of the Baker Trust, the Urquhart Charitable Trust and Freemasons Victoria. In addition the annual Sleath Lowry Scholarship and "Chairman's Award were granted together with the John Harber Phillips Fellowship.
The RCM Club was represented on the Board of Acclaim by Peter Marfleet, Robin Read and Peter Rogers. On behalf of the Board I would like to thank them for their time and commitment to this very worthwhile project.
5.0 club Communications – Director Nick pelham
5.1 Communications Committee
As you can all appreciate the work of the communications committee is a vital cog in the running of the Club's operations. With new mediums of communication, through oral messages, newsletters, emails, SMS and visual imagery, the club has never used so many different mediums to communicate to all members. The weekly newsletter summarises the weekly meeting and informs members of important information and dates, the weekly SMS' alert members of who will be speaking at lunch, while the club photographer captures still images, adding a great dimension to what is communicated to the members.
5.2 Above all our award winning Club Website adds firepower to the way we store data, capture our knowledge and disseminate information in an easily accessible manner - be it downloading board papers, finding the contact number of a club member or navigating through all the projects the Club in undertaking. The website and our webmaster are a very valuable asset to our club. Our thanks to Chair Phil Bowley for the excellent job he does in keeping our web site up to date.
5.3 And finally our Archives Committee chaired by Bruce Davidson is responsible for storing and managing all our information that is not in a digital format. This committee's work has been called upon for district events to find valuable club information, as well as archiving current data for future use.
All in all, the club has many channels of communications, and we look forward to initiatives around the newly established 'e-club' to further exploit and communicate in new ways.
6.0 CLUB FELLOWSHIP – Director DOUG MARSHALL
6.1 During 2011/2012 Group Activity under the guidance and support of our Captain of Groups Peter Washusen, and our dedicated and committed Group Captains, continued the traditional pattern of meetings, varying between 'fireside gatherings' and visits to organized events and other activities throughout the year.
Club events were well supported by groups, namely the European Masters exhibition at the NGV. A particular thanks to the Arts Committee for providing opportunities for Group activities. Individual groups enjoyed an array of other outings whilst the nights spent in one another's homes are always valued occasions. The Group Christmas functions were well attended by a majority of members and of course President Austen and Sue. Also the ANZ building tour organized by David Dunoon of Central 2 in late April was extremely well attended and enjoyed.
This year members for the first time had the option to opt out of the traditional Groups. About 10% of members took this option. The process implemented last year of new members being contacted by the Captain of Groups to discuss the role s of Groups prior to induction, continues to provide benefits for new members as they find their feet within the Club.
A few Groups continue to struggle for increased attendances at meetings and a number of options are being considered by individual Groups to resolve this issue.
Groups continue to hold an extremely valuable place in the fellowship of the Club. Peninsula group maintains it position as one of the best attended and proactive groups.
6.2 Another Fellowship activity Interclub visits involve members of the RCM being provided with the opportunity to visit other Rotary Clubs to foster a better understanding of how other clubs operate and to promote goodwill and fellowship between Clubs.
Under the Chairmanship of Robert Fisher and with encouragement from President Austen 8 official visits (2 more than planned) occurred. Included in this year's visits were Clubs with which we had joint projects running; as well as the Clubs of the District Governor, DGE and an Assistant Governor. The Clubs visited included:
Carlton (DGs Club), Hawthorn (DGE and an AG)
Doncaster ,Brighton Beach ,Lilydale, Albert Park and;
Footscray who were celebrating their 75th Anniversary Dinner at Melbourne Town Hall)
Between 6-10 RCM members attended on each visit. This is indeed a great way for members to see first hand how other Clubs function.
6.3 On to Conference was Chaired this year by Alan Trumble, whom I must say did an excellent job in organising the RCM attendance at the conference. He was also an excellent salesman and promoter of the event.
Alan commenced the conference by organising a Whole-of-Club Moonlight Cruise on the Yarra on the evening before the commencement of the conference. There were approximately 80 brave people who boarded the cruise, which proved to be a huge success with Great fellowship opportunities and great entertainment organised by David Kram.
The District 9800 Conference, which was held from March 9 – 12 at the Melbourne Convention Centre, had over 40 attendees from RCM who advised that it was very successful and enjoyable event.
There were just under 60 members supporting the major functions, which included the welcome cocktail party and conference dinner.
There was as much interaction and activity taking place in the Rotary Village as there was in Plenary Hall as expected. The majority of the Guest Speakers presented particularly well and the message they imparted was received enthusiastically by the audience. The Q & A session chaired by ABC Journalist Tony Jones was a highlight with Amanda Vanstone being the 'Stand Out' panellist.
Conclusion
I would like to conclude my report by saying that there was certainly a lot of challenges for RCM over the past 12 months, a lot was achieved by our committees, there were great opportunities for Fellowship and overall another great year for the RCM.
I have enjoyed my year as VP and would like to thank President Austen for providing me with this wonderful opportunity and privilege. I would also like to thank all the Directors in Club Management and Services and the Committee Chairs for their hard work, support and commitment over the past 12 months. I wish the new Board to be led by President Clive every success for 2012/2013 and my successor Peter Beardsley in his role as VP Club Management and Services.
Mary Barry
Vice President
Club Management and Fellowship 2011/2012