Vice President's Report - 2006/2007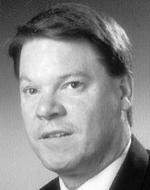 Community Service Committees - Vice President Greg Romanes
When I was at our meeting last week and thinking with some trepidation about today's talk - and how it would be following on from the entertaining singing we were enjoying at the time and I was given some wise advice from a fellow member. "Vice President's report - nothing to it - just get a copy of last year's out of the annual report and read that - no one will notice the difference!"
This wise counsel pre-supposes that little changes from year to year in the Rotary Club of Melbourne, but I can assure you - this year in any case - that is far from the situation.
I did pay attention to the advice however and browsed through some of the past VP reports on the Club's website. There was one report in particular that I took direction from, which was written by the then vice president Mev Connell. As with other things associated with Mev, it had been assembled with a good deal of thought and care.
Tempting as it was to follow my recently acquired advice and copy and paste great tracts of Mev's report, I have resisted that course - but I am sure he will permit me to copy the structure of his report, which I have done.
A real benefit of being vice president is the broad perspective you gain on the activities of the Club and I will attempt to distill this vast activity down a little for you today by talking about three spheres of operation - our core activities, special activities and major projects.
Core Activities
Some of the committees in the Community Services division of the Club exist because the very nature of their work is fundamental to the Club meeting its objectives and their activities have survived the test of time because they are highly valued by the communities they benefit. I include in this bracket activities such as the Welfare of the Elderly Committee's annual seniors visit to Red Hill and the long standing library book delivery service, the Vocational Service Committee providing us with - for me at least - our annual special luncheon treat as they announce the Training Awards to three outstanding apprentices - this year Hayley Rudland, Ben Scoble and Kevin Baker. They also provide us with an inspirational speaker each year - the winner of the Vocational services Award and this year's recipient - Trevor Green from the Melbourne Symphony Orchestra - was no exception.
Our Student Exchange Committee, under the tireless leadership of Kevin Sheehan, continues to kick goals - into quite a strong wind (given the demographics of our Club) - and their activity is absolutely fundamental to one of the core tenants of Rotary - advancing international understanding, goodwill and peace - and we must all strive to provide whatever support we can. This year we have sent away Alex Dahlberg, received back Morgan Jones and are host Paulo Sunairi.
The Town and Country exchange with Bairnsdale is a perennial favorite with the participants and has also spawned a relationship between our two clubs that will lead to Bairnsdale being one of the initial centres for the Healthy Hearts - Beyond City Limits project.
At the start of the year President Chris announced the establishment of the 0808 Committee and they are charged with commemorating the anniversary of the battle of Amiens, a battle that was led by the Rotary Club of Melbourne member Sir John Monash. We are also undertaking the restoration of the battle colours that were flown at Amiens and which are held by the Shrine of Remembrance.
Special Activity
I would like to discuss eight areas of special activity this year. These activities tend to be of a developmental nature - testing new ground or conceiving and seeing through a particular project that addresses a known issue.
Just as the Student Exchange program demonstrates our commitment as a club to the internationality of Rotary - this year President Chris established the International Fellowship Committee to further enhance our efforts in this area. In October the committee hosted a delegation from Turkey - district 2420 - and in May a group from our sister club in Osaka were the beneficiaries of the committee's efforts. Both visits were a resounding success.
Our Club has been involved with the Donydji Homelands project for a significant period of time and our total support has reached an impressive $1,000,000 in cash and kind. This project has far exceeded its original scope and it is now entering a new phase - of special significance to us - vocational training and the Board will vote tonight to contribute an additional $25,000 to this project.
Another special activity, and one that is drawing to a close, is the Sydney Road School re-development. This has been a very rewarding project to be involved in but also has tested our members' patience with various levels of bureaucracy frustrating progress at certain stages. In any event, the school, its students and staff, have all benefited enormously from the Welfare of the Young Committee's on-going efforts.
Our special effort that tackles leprosy is also nearing completion with a final distribution of a Rotary Foundation matching grant being considered by the Board tonight. The Cambodian Leprosy project has been a good demonstration of the leverage that we can obtain by skilful use of the matching grant process. This project has led to measurable benefits, including the prevention of disability in the target population.
A major focus of the Community Welfare Committee has been their involvement in the PACE initiative. PACE is all about partnerships and Rotary, in particular the Rotary Club of Melbourne, is a leader in that field. You will hear much more about this program over the coming months and years as it will give our club a major role in tackling an issue that has defied solution for too long - homelessness.
Initially this will take the form of our involvement with the "Big Issue" - of magazine fame - in their Homeless World Soccer Cup. This is a good example of a development project that is feeling its way - we are not sure at this stage where it will lead.
One special effort that we can readily touch and feel is the Second Bite project. This project has really hit the ground running and has had a huge and very real impact on those very same people we are targeting with the PACE initiative.
From a call to arms made by Bob Glindemann in January - this project now boasts 60 regular volunteers, 30 of whom are members of this club - and they are responsible for collecting food from the Prahran market and taking it to our friends at the Sacred Heart Mission in St Kilda. The project has proved such a success that similar initiatives are being developed at South Melbourne and Camberwell markets. Stay tuned.
You may have noticed that a feature of our special activities so far has been their ability to have a positive effect on day-to-day lives of real people. The next initiative also fits that bill, but for a group of beneficiaries that rarely if ever hit the headlines. I am talking of course of the carers of the ill, and in particular the mentally ill. We have in our club a passionate and leading expert in this field in the person of Marg Leggatt, and she, Robin Syme and their fellow committee members have had the smarts and tenacity to have fundamental changes enacted at a policy level that will have demonstrable benefits for the mentally ill and their carers. And their battle is not over.
In a project that has taken a similar amount of sheer bloody determination and time, the Welfare of the Elderly Committee has produced a booklet and video, in conjunction with the Law Foundation and the Office of the Public Advocate, that finally gives the public access to relevant and timely information about Powers of Attorney - a subject that was eloquently explained by guest speaker Julian Gardiner from the Office of the Public Advocate at a February meeting.
Our final special activity is surely one that will play an increasing part in our lives - the environment. The Public Issues Committee has begun the process that will ensure the Rotary Club of Melbourne takes an active role in this area and has also begun to investigate whether there is a proactive method for us as a club to reduce our carbon footprint. I predict that in the future we will be asked to purchase Apricot trees rathet than just the apricots.
Major Projects
There are three major projects that I would like to give you an update on. They are Healthy Hearts, East Timor and the Rotary Club of Melbourne Community Foundation.
The Healthy Hearts project is ready to go - after just three short years!! Shortly, "Healthy Hearts - Beyond City Limits", will commence in Colac in co-operation with the Rotary Club of Colac.
Subsequently 10 regional communities in Victoria will be targeted, where it is believed access to Cardio Vascular health care services is restricted. In collaboration with local Rotary Clubs, the community and health service providers - such as local GP's, and working with the Rotary Club of Melbourne, the objective is to deliver an innovative service over a 2-4 week duration that will provide vulnerable communities with:
· A mobile, advanced CV risk assessment unit equipped with state-of-the-art medical and laboratory equipment, to give individual risk assessment profiles and heart health advice, and reports sent back to their local GP.
· A CV disease awareness program involving local community groups, media, schools and major employer groups.
· An assessment of individual needs of those at risk of developing or living with CV disease from a regional perspective.
· A detailed report on specific issues relating to the above, for provision of services and development of regional CV disease plans.
As previously mentioned, Bairnsdale is likely to be one of these centres, following the successful relationship we have developed with them through the Town and Country Exchange.
The Project costs over 2 years will be about $730,000. These will be met by a BHRI bequest and funds from the HH committee. There is a deficit of about $55,000 (includes $15,000 to be considered by the Board tonight), but the Healthy Hearts Sponsorship committee hope that this amount will be forthcoming from a current initiative. But there is still the opportunity for individual donations! A brochure is available from the Jo in the office.
East Timor
Our work in East Timor continues on four fronts. All have been affected one way or another by the recent instability but we can only hope that with the coming elections things will settle down.
The Roofing project is coming along very nicely and the order books are full. Our 11 or so employees are busy meeting these orders. The factory has been closed twice due to unrest but has been operating uninterrupted for some time now. As sales remain strong the profits are being reinvested in the business and particularly in machinery.
Across the road at the Dili Institute of Technology - Bacau campus - the graduation ceremonies never cease. We have just farewelled our 6th class and 100th student. These students have completed a 14 week course in basic building skills and return to their communities as a real asset. Members will remember that the Institute was funded by a grant from the Shell Foundation and the East Timor Committee is investigating funding sources for the continued operation of the college when the Shell well runs dry.
Our micro credit scheme which was being run in conjunction with Opportunity International is on hold at present as Opportunity International availed themselves of the opportunity to go international when things hotted up - so the committee is working with the ANZ Bank - which runs similar schemes in other pacific countries - to conduct the micro credit operations once they have established their own operations.
A related issue is the ongoing support of Daryl Mills and it is incumbent on me to place on record our sincere thanks to the Rotary Club of Balwyn for their financial support in this matter. Daryl is the Rotary Liaison Officer and is crucial to the success of so many Rotary projects in East Timor. The committee is committed to ensuring that Daryl remains a key resource on the ground in East Timor and will continue to engage RAWCS in dialog to do so.
The Rotary Club of Melbourne Community Foundation
The raison d'etre of the Rotary Club of Melbourne Community Foundation is simply to provide the Rotary Club of Melbourne with sufficient funds to enable it to carry on its work in the community.
It is the Club's response to the all too prevalent scourge of short-termism and combines the simple but powerful forces of time and compound interest to achieve its goals.
If 86 years ago the founding fathers of our Club, and subsequent Boards, had invested $1,000 per annum at 8% interest we would have a corpus of some $10 million today. Similar programs that have been established for a long period of time in the United States have achieved stunning results - for instance Harvard University has a current corpus of $26 billion - $26.5 by the time I have finished this speech no doubt!!
The Foundation has raised some $150,000 this year and if that were simply invested for another 86 years it would be worth over $50 million. The path ahead is clear and I we must all support the RCM Community Foundation to the best of our ability.
On behalf of Barry and myself I would like to thank Chris for the honour of choosing us to be his Vice Presidents this year. It has been a humbling experience to watch the sheer volume of work that Chris and Janet have undertaken on behalf of the Club with such dignity and grace.
Thank you for your attention.
Greg Romanes
20th June 2007